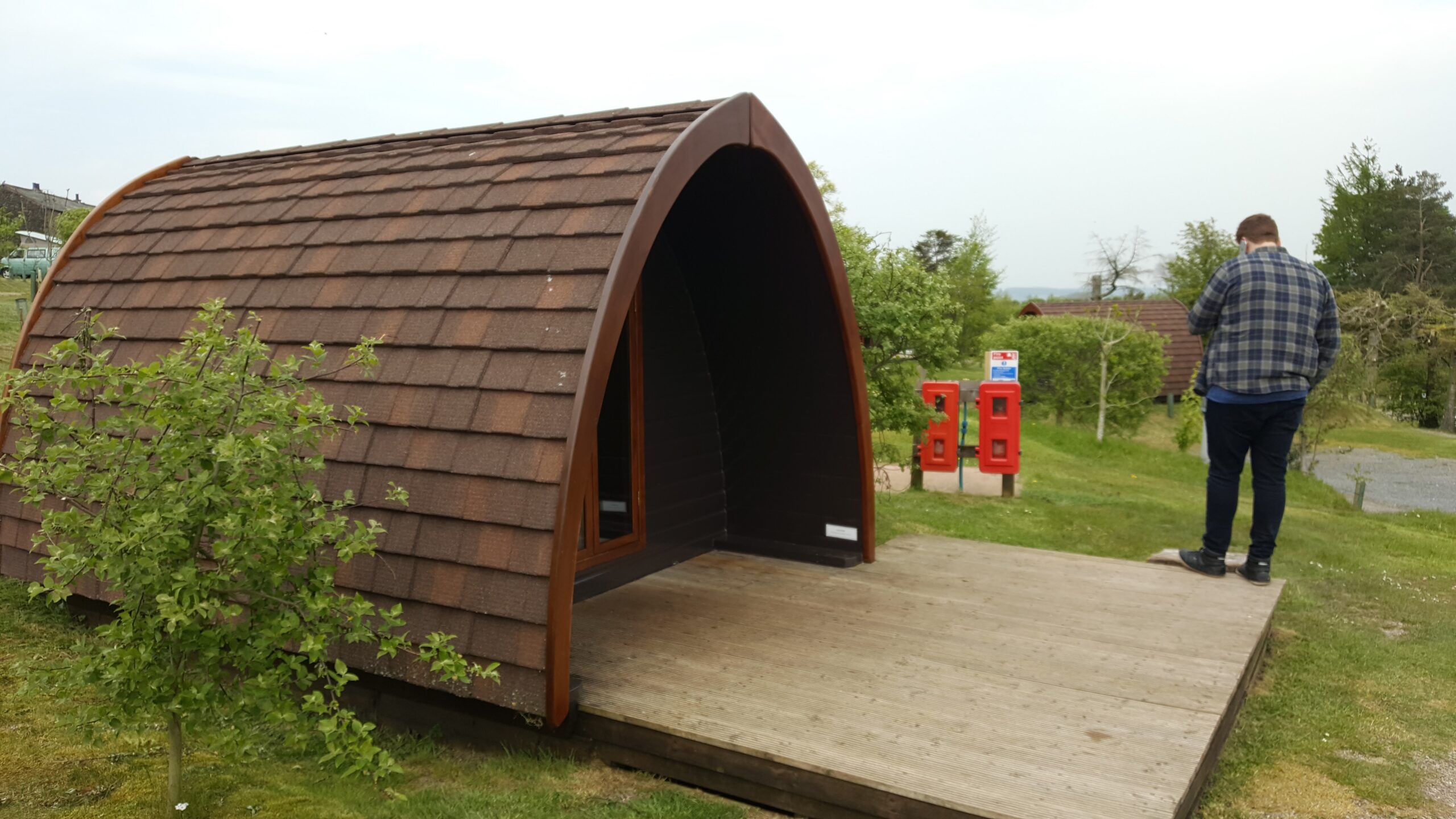 Hope you all had a lovely bank holiday and didn't get too put off by the weather being so hit and miss. I wanted to tell you about one of my weekends away and maybe it'll give you some inspiration for the next time you have a weekend off 🙂
As my birthday and our first anniversary fell in the same week last year my boyfriend and I headed to the Lake District for a long weekend away to celebrate. I love camping and being in nature but thought we would glam it up a bit as we'd found a site who offered 'hobbit holes' which looked amazing, they are quite pricey but the campsite is in a stunning location, it feeds the inner nerd and it's a fab glamping idea, sadly though they had none available for the dates we wanted, so we opted to stay in one of their camping pods instead.
With our pod there was enough space for our double air bed, travel fridge, our stash of food, luggage and still just about had space for our two camping chairs which we brought in to sit on when it rained or got too cold and no longer wanted to sit out on our little decking area in front of the pod. I could even stand up inside the pod, but then again I am quite short, Rob had to hunch over slightly but there was still much more space than the average tent and we didn't have to worry about putting up and taking down a tent in the pouring rain or having to dry it all out when we got home (bonus!). The pods all also include a mains light, plug socket and heater. It was the most high tech camping I've ever done! We were able to charge our laptops and phones so could use them as much as we like during the days, which meant we could take all of the photos we wanted without worrying about our phones dying half way through the day.
We had a few dramas with the car on our way up from Gloucester so while Rob did the manly thing and fixed the car (once we'd finally arrived at the site) I sorted out our home for the weekend and sussed out where things were on the campsite. It is a very well set up site, there are family bathrooms as well as toilet and shower blocks, a pub which has live music nights, a games room with a ping pong table and an air hockey table, a shop with all the necessities for camping and an area with a fridge, freezer, microwave, rubbish bins and recycling stations so we could keep looking after the environment while we were away too.
We arrived on Friday 12th and left on Sunday 14th-my bday- and managed to see a fair bit of the area within that time but if I went back I think I'd like to stay for longer and go to see even more different places, there's so many walks to go on, hills to climb, sites to see, nature to immerse yourself in, attractions to try out and plenty of spots to just sit and read, have a picnic or ponder life's big questions so our few days just wasn't long enough to cover everything I'd have liked, it was more a taster of what we/I could do in the future.
The reason we picked the Lake District is because it is somewhere I had never visited but wanted to for ages with it's stunning views and nature walks etc but it was also where Rob spent some of his childhood so we spent a couple days visiting his old haunts and hang outs, it was also handy having my own personal tour guide.
Our first day (once we'd sorted the vehicle drama, got to the campsite, looked around, unpacked, pumped up the air bed- I borrowed an battery powered pump from my mum so it was really quick- and put on the bedding, plugged in the fridge, sorted out food and made our pod look cosy) we decided to venture into Keswick, don't pronounce the 'w' or people will laugh at you as Rob did with me.
It's such a beautiful little town, with an AMAZING sweet shop, lots of restaurants and pubs but also cute little cafes, LOTS of places where you can buy outdoor equipment and clothing, homemade and handmade crafts and treats, art shops and museums. We wandered around for a bit, spent quite a while in the huge sweet shop in the center and tried not to go too crazy on buying things although I wanted to buy one of everything, I then dragged Rob into a cute little shop which was selling homemade fudge, bought a few different varieties, went round looking for places to eat then ended up in a shop selling various art works, some absolutely beautiful paintings, I fell in love with one of the pieces but couldn't afford it and it seemed like one of the only artists featured in the shop that wasn't then put into a card or smaller print so I could buy it like I did a few other pieces but the owner let me photograph it instead…
Stunning, right?
We then went to the supermarket to get a few bits and bobs, most of which we could have bought on site but thought as we had time on the parking ticket we may as well buy things here, we also got a chinese takeaway for our dinner as we couldn't be bother to cook. Collected the takeaway then headed back to our pod.
Day two I wanted to start in proper camping fashion so I cooked us a breakfast on a disposable bbq and a camping stove, the weather wasn't keen initially but after a rather large stress and several attempts at lighting it in the wind and rain I got it all lit and the breakfast cooked (eventually). Today was our day to explore Rob's old hang outs. We went to Whitehaven where he grew up, went to see his old house, the park he used to play in and played on the seesaw -because we are great at being adults- walked to his old primary school which is now just houses (isn't that always the way nowadays), drove into Whitehaven itself, walked around the harbour, looked around the market and in the town, drove back to the fish and chip shop he used to go to, got ourselves some food and drove to the sea to eat it.
We decided to drive to St Bees and had some lovely views on the way but it was so cold and windy we ended up eating our food in the car. We braved the wind once we'd finished so we could walk on the beach, past the awesome play area they've set up for the kids (if there weren't kids on it I'd have been on there like a shot!), photograph the waves and do a couple of cheeky selfies, but we didn't realise how far the water was coming in and got a little bit soaked, we tried to run away but noticed too late and failed.
After St Bees we decided to go on a bit of a scenic drive, visited a couple of lakes then headed back to Keswick as we couldn't decide where to go for dinner-Rob wanted to treat me to a meal out as it was my birthday the next day- spent ages going around places to eat, drove past a lot of pubs and wandered round Keswick for ages looking for somewhere but lots of places I felt were too expensive or didn't do food we both were keen on and when we'd finally chosen somewhere they had no table for us so settled for a little pub instead but sadly both myself and Rob weren't as happy as we'd like with the meal or the service but was decent enough, not too pricey and filled us up for the evening before we drove back to our pod, so not all bad.
The first lake we visited was Ennerdale which was lovely, we explored two different sections, one was having some kind of work done, hence the very fetching blue covers, piping and fences in some of the photos, but once we'd gone past that there was a large lake and hills, a good excuse to skim stones and just relax, it was gorgeous, the other area we walked round to was around a small river, lots of trees, one of which we found was carved with a few names, Rob and his family had carved them in YEARS ago and you could still make them out, a bit distorted now but readable. The place itself was lovely, felt so peaceful, the river flowing through, crashing slightly as it followed its path over stone ledges underneath, we went back to he first area for a bit longer then got back in the car and went for an even longer drive.
We decided to go and see another lake which I'm now unsure of the name, thought it was Lake Windermere but no longer sure, we drove for ages, got stopped in the road by horses, cows and adorable little lambs, as well as stopping to photograph the views and strange things we spotted. Parked up in a lay-by, clambered down to the water level and took off our shoes, Rob went into the water up to his ankles but it was too cold for me so I chickened out, I also didn't want the hassle of trying to dry my feet to get my shoes back on to go back…
After the lakes and the drama of finding somewhere for dinner we went back to our pod for our final night away, packed up and got organised as much as we could so we could get out quickly in the morning (so we could lie in as long as possible really), watched some shows on the laptop then went off to the land of nod.
Woke up on the Sunday morning, my birthday, to a card, cake and presents from Rob and other wrapped goodies but decided not to open them yet. I sorted out the picnic basket with all the food we wanted, including the bottle of prosecco I'd spotted within my gift bags and other bits and bobs that needed to be easily accessible along the journey. We emptied the pod, did the last bits of washing up, packed up the car, gave back our key then set off for our final river.
When we got as near as we could drive, we parked up, took out the picnic basket and bag of presents, walked along the paths, then onto a bit more of a wild path, spotted a few cool things along the way one of which we think must have been an old well or something (of course we took photos), spotted a bit of a pebbly area alongside the lake where a family were relaxing and their kids playing, walked round a bit further and found an area bigger than the last with a pebbled area and a grassy section. We laid down the picnic blanket and basket, opened the bubbly (Rob doesn't like it so had a glass to celebrate then I got to finish the rest of the bottle, what a shame 😉 happy birthday me), I got a call from my mum, step dad and brother singing happy birthday to me and getting jealous about the fact I was sat in the sun, in a gorgeous setting, drinking fizz and cracking into the birthday cake and breakfast-y snacks we'd put in the basket.
We stayed there for a few hours just relaxing, skimming more stones, watching the boats sail by, the ducks floating along, listening to the waves gently crash onto the shore and taking it all in before heading home again. I felt bad for Rob as I fell asleep on the way back (usually do, no matter what the playlist that's on, but always feel bad). On our return it was time to shower, change, then drive to Monmouth for my meal with some of my family in a little Italian restaurant in town we like called La Piccola Italia, had a delicious meal, lots of laughs, even more cake and more gifts. Drove back to Gloucester where we were living at the time, put my cards up then went to sleep in prep for work the next day after an amazing few days.
Until next time, TTFN
Have you ever been to the Lake District? Do you recognise the Lakes I couldn't name? Any tips for where to go next time? What do you think of the pods? Let me know in the comments.
As usual feel free to like, comment, share, subscribe, follow my other social medias and message me if you want to collaborate.