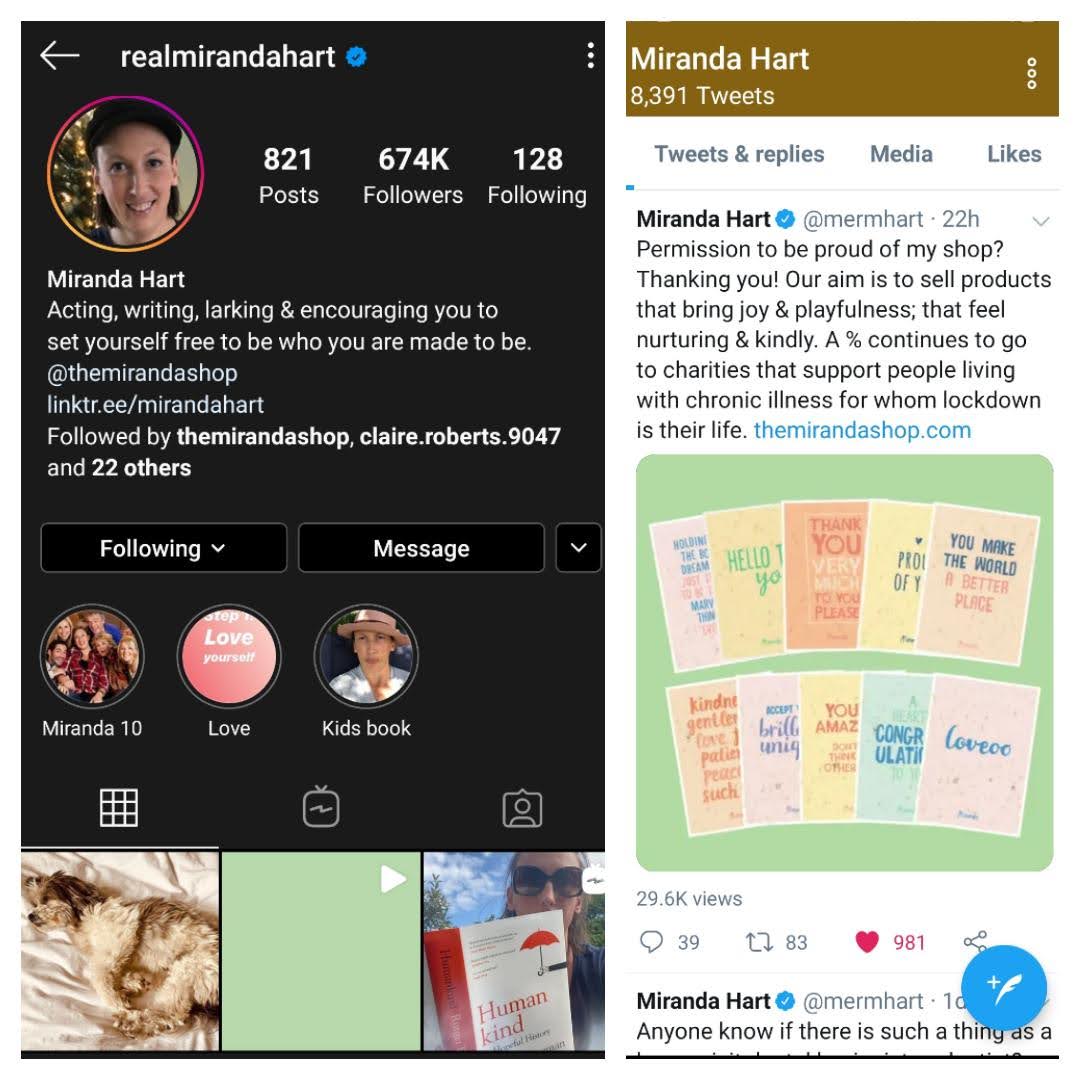 There are many reasons why I loved Miranda Hart before this lock down. Since this pandemic began my love and admiration for this amazing, big-hearted comedian has grown and grown.
Miranda Hart on Television
My first exposure to this incredible human being was as the very tall, very clumsy cleaner Barbara in Not Going Out. She then had her own self-titled series. I have watched each and every episode of all 3 series many, many times! Still can't believe it has been over 10 years since it launched.
I have a few friends who have watched it with me and then quoted it with me since. Comparing ourselves to the characters. Someone always ended up comparing me to Miranda's character, which I have to say I took as a MASSIVE compliment.
Her appearances on Have I got News for you, Would I lie to you, Big Fat quiz of the year and other panel shows as well as being a guest on chat shows always amuse me. She seems so naturally funny, caring and approachable.
Lock down
I started following her on social media last year as well and have not been disappointed. Her little anecdotes, support of mental health, and her gratitude of the little blessings around her really brighten up my day.
During the lock down Miranda has also been doing some videos discussing various thoughts and issues. She calls them her chatty rambles or 'chambles'. Even though most are around 20 minutes long it really does not feel like it and I am enthralled.
Purchases
Because of her chambles I have now watched several TED talks, discovered new authors and poets to appreciate. I have been made aware of two amazing charities (because Miranda Hart is raising money to support them during this crisis). I've bought her childrens book 'The girl with the lost smile' which I read slowly over a month. It was such a lovely concept and really nicely written, remember you don't have to be a child to enjoy childrens' literature.
I have ordered her Maracattack dvd but not started it yet. Her Comic Relief book is on my wish list too but it is sold out atm. I have also previously bought and read her autobiographies too which I have really enjoyed. She is also in the most recent adaptation of Jane Austin's Emma and was in Call the Midwife of you fancied some period dramas.
Miranda Hart on Social Media
Her instagram videos, books, tv show and general awesomeness have been helping to keep me sane, especially over the last few months.
I hope she knows how much her words (whether spoken or written, improvised or scripted) have helped numerous people across the globe.
We love you Miranda Hart. From some of your comments in your Chamble videos I know you haven't had the easiest of journeys which we call life. I hope you are coping with the current situation. I hope you know how much you do for others and how much you are appreciated.
This post turned into a 'I sound like a stalker'… Oops.
Mental Health
But seriously if you struggle with mental health on a day to day basis. Or are struggling with the current lock down situation, I would recommend some distractions; films, TV, books, (some) social media and Miranda Hart has all of that. If you've never watched or read any of her work then why not check it out while we stay safe at home?
New to the world of Miranda Hart? Take a look and let me know what you thought. Already a loyal fan? Share with me your favourite memories 🙂
Until next time, TTFN.
As always please like, comment, share and subscribe to my social media channels and this blog 🙂