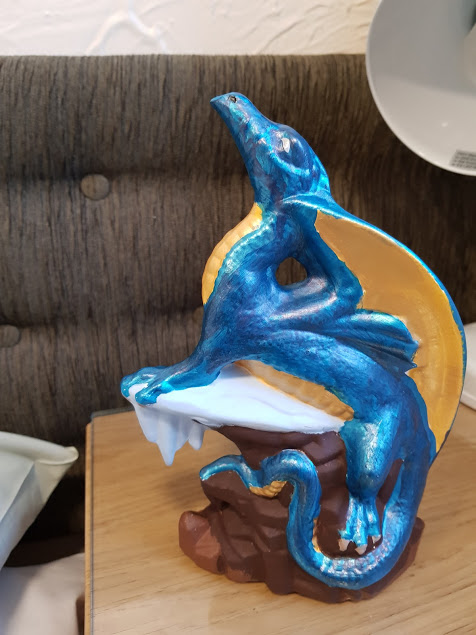 This week I wanted to write about an idea for a little getaway, maybe for a birthday, hen/stag weekend, reunion or just an excuse to go somewhere different. So as my friend Summer and her family went down to Devon to visit a
sports, craft and spa hotel
I thought that this was a good place to start so she agreed to write a review to give you guys a bit more information and maybe inspire you to book some time away.
So without further ado:
The Craft Hotel
The hotel itself is a weird one. It was very obviously designed in the 40's and never changed. There's A LOT of green. Aside from the decorations the place is really nice. The buffet has something for everyone in it and no limits for what you need. They're especially great at embarrassing birthday singing. It is jam packed with activities which you have to book into. That is done in a big room with them listed on the walls. There were too many for us to have done in our weekend so I'll only tell you about what we did.
Shooting
There are a few different types of shooting you can do. There's the standard pistol and rifle shooting at targets which I'm sure is fun for some people but for a clumsy one like me it's just nerve wracking. It isn't made better when the instructor is Steve. Steve was short-tempered and impatient with all of the beginners, including my elderly grandfather who is hard of hearing. He gave away other peoples spaces and wouldn't let them in if they were even 2 minutes late and was all round a bit rubbish. Thankfully he doesn't run all of the shooting. The other types of shooting include Archery, which was run by 2 lovely lads who kept it light and fun, and laser shooting. The laser shooting is done with rifles but no ammo so no way of hurting myself. It also included a competition as a bit of fun.
Painting
There were many types of painting in the hotel but the main one is Bisque painting. Unlike many of the activities, you didn't need to book in to do this, you just turned up. They have a large variety of figures to paint and you just pay for the one you want and get started. They have an area you can leave your figure if you want to come back to it and they let you just get on with it. Below you can see one of the things I painted while I was there.
Candle Dipping
The candle dipping is quite cool. It's a half hour session where the instructor tells you the different methods to make candles and the different candles you can use and then just lets you go wild with the wax. They have almost all the colours you could want and a clear one to finish it off. They also had little tools you could use to shape wax or carve the candles in a certain way which we certainly experimented with, as you can see below.
Pottery Transfers
Pottery transfers is fun. There is  wide selection of objects you can use, I did a teapot and a bowl. They also have mugs, plates, coffee pots, pretty much all the pottery options for various prices. They also provide the transfers. There are so many options it is truly overwhelming. My mum chose a frog theme, I had dogs on my stuff, there was also the chickens, my partner had flags and playing cards. There was pretty much everything. It's super simple to do, you just get the picture wet and put it on the pottery. Then just give it to the person running it and pick it up the next day. That fact is important, it does take 24 hour to kiln so this is not an activity for your last day there.
Pyrography
Pyrography was super fun!! It's literally drawing or writing with fire. Well, not fire exactly but a very hot piece of metal. Like the rest of the activities, they provide the tools and let you run free. They had so many options of things to write on from boxes to notebooks to just wooden circles and everything in between. There's a short tutorial on a piece of waste wood and then you get an hour to do your own project. There are stencils and pencils so you don't need to free hand if you don't want to. This doesn't seem to be as regularly run as the other activities, our class was actually run by the gardener who had to leave half way through for a choir concert.
Bowling and Golf
Bowling and golf are different from the other activities because you can do them at any time. The golf is either miniature golf or adventure golf at the hotel thought I do believe there was some "real" golf out there somewhere. The bowling is very old tenpin bowling that was kind of a broken system in that it always gave you one more pin than you had before on the second go round. It was very quaint though. The adventure golf wasn't exactly an adventure, don't go picturing large windmills, it was very much miniature golf with some hills an bridges involved but still a lot of fun.
Spa
The spa is gorgeous, if a bit hard to find. You'd expect it to be by the swimming pool but instead it was as far from the main building of the hotel as you can get, right by all the sports courts. We didn't have any of the treatments they offered but there was a large variety of massages, manicures, pedicures and peels to choose from if you were to give them a go. The main body of the spa has a large jacuzzi, the size of a small pool. It is full of different bubble sections, has one of those high pressure waterfall things, and lots of space. The only downside I would say is it isn't very accessible considering the apparent demographic. You do need to climb stairs to get into the water. Surrounding the bubbles were various rooms containing saunas and spas with a variety of infusions. The orange one was particularly nice. 
The final thing we did before we left was Bollywood dancing. I will say it right now, this was not real Bollywood dancing. The teacher was a lovely, but perhaps unsuitable, university drama student and the moves were a lot closer to our local Zumba class than actual Bollywood films. Nonetheless, it was a lot of fun. Especially when everyone in the room knows they're as bad as each other, it just makes it a laugh. There were other dance and exercise classes going on throughout the week as well which I'm sure followed the same level of energy and silliness.
Until next time, TTFN.
So, what do you think? Been here yourself and have insight into the other classes that they offer? Do you have other places near you who would offer a similar break from every day life? Let me know in the comments, I'd love to know about them.
I'm planning on writing reviews on a few different places to go for days out/weekends away over the next few months and Summer has agreed to do a few more guest posts for me so I can use some of her awesome photography again like I did in her last post.
If you have any ideas on where you think I should review, places you'd recommend or any tips for me, as per usual, let me know in the comments.
As usual feel free to like, comment, share, subscribe, follow my other social medias and message me if you want to collaborate.