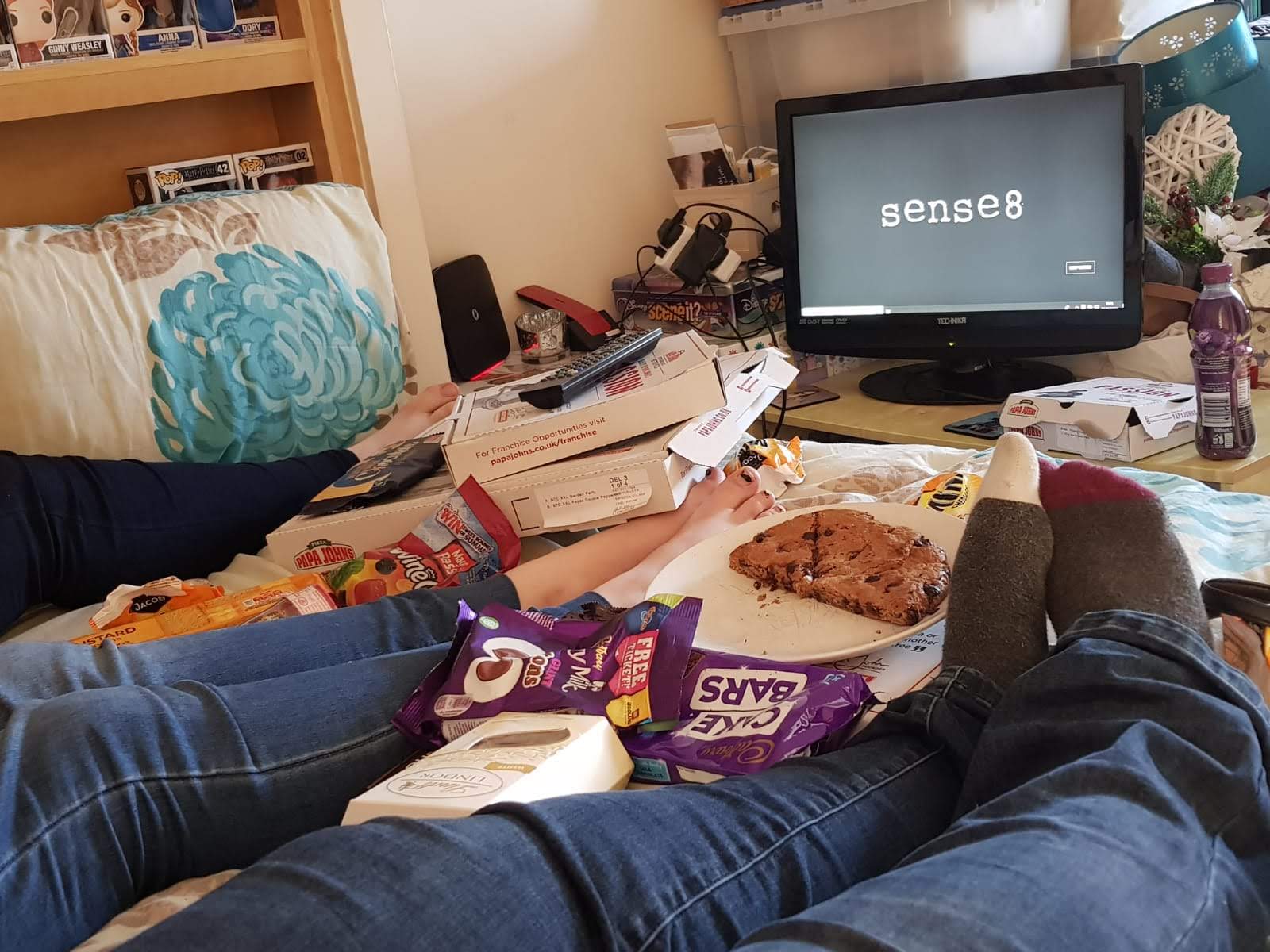 The Netflix series that I had heard nothing about until one of my work colleagues told me about it, then binge watched pretty much the whole two series in two days, surrounded by lots of food and two of my awesome friends- I now feel this series needs to return for a third series, the most recent episode that was released this week was amazing and they managed to answer most of the questions I had and you could tell they were doing a farewell episode but I still want more. There have been petitions made to make this happen and it needs your help! Petitions managed to get the finale episode of series two created (they called it series 3 but it was 1 episode) so my fingers are crossed that they have the power to get it back for more series as well because there are still so many unanswered questions and the series is awesome, the whole premise is something that has so many possibilities and apparently further episodes have already been written…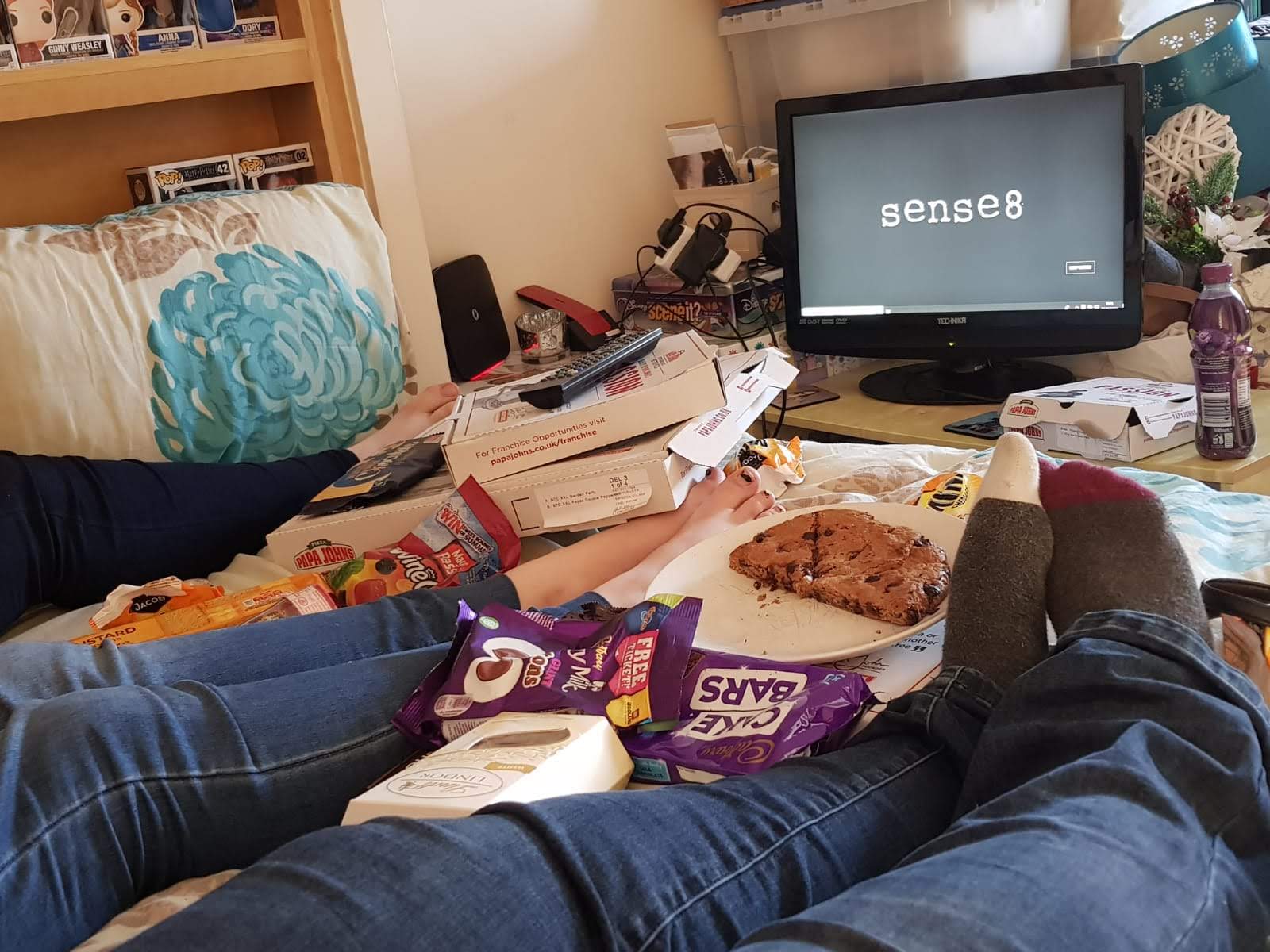 The series follows eight people who are all in a 'cluster'; a group of people who are connected emotionally, mentally and sometimes physically. It follows their individual stories as well as when they interact, share skills and advice. It is such an emotional rollercoaster, there are lots of 'awwww' moments but also lots of shocking events, violence, love, conflict and sex amongst other things.
The series is set in various locations all over the world (probably explains the cancellation tbh as it must have cost a fortune), at the beginning of series 1 within the cluster of 8 that the series follows Will is in Chicago, Nomi is in San Francisco, Sun is in Seoul, Lito is in Mexico City, Riley is from Iceland but living in London, Wolfgang is in Berlin, Capheus is in Nairobi and Kala is in Mumbai. There are also obviously other characters, my favourites being Amanita- played by Freema Agyeman who was Martha Jones in Dr Who but plays an awesome character in this show- who is Nomi's girlfriend, Felix who is Wolfgang's most loyal friend, Capheus' friend Jela, Leto's friend Daniela and Nomi's friend Bug- the way he acts when we first meet him and how eccentric he is with all he does, it's brilliant. There's also a fair few cameos to look out for too.
The series is directed by the Wachowskis, formerly known as the Wachowski Brothers, well known for directing such films as The Matrix and V for Vendetta but who both are now trans women, the series represents the LGBT community not just with the directors but also with the stories featuring trans characters, lesbian and gay characters as well as heterosexual characters, and people from different religious and racial backgrounds, it really does represent most groups and covers a lot of the issues each group faces. Within the cluster we follow is also a diverse range of jobs/lifestyles from members of the police force, a hacker and a pharmacist to an actor and musician to gangster and street fighter- there are some EPIC fight scenes in this series!
They also travel a huge area of the world across the two series with people travelling as well as having the range of countries just from the characters home towns. The landscapes that are captured through the series are breath taking and the scenography of this show is amazing, this alone should create interest in the story but the storyline and characters completely outshine the stunning backgrounds used, it keeps you on your toes, some things happen out of nowhere, I spent a lot of the time sat at the edge of my seat waiting for what was going to happen next or shouting at the screen because something had happened I wasn't expecting.
I don't want to go into too much detail in case I end up giving spoilers, but your heart will probably break, you may cry (I did, quite a few times), you'll be shocked, made to laugh, cringe and you may get way too invested in the show as I evidently did.
The views and locations are so diverse, the lives of each individual and their pasts are so different and the themes, struggles and joys that are covered… it really is a show I would recommend to everyone.
Until next time, TTFN
#relationshipgoals #NomiandAmanita #hairenvy #badasses #somanyawwws
Have you watched this show? What did you think? Has this post made you add it to your Netflix list or start a binge watching weekend? Do you have another series I can distract myself with while I wait for a possible series 3 of Sense8? Let me know in the comments.
As usual feel free to like, comment, share, subscribe, follow my other social medias and message me if you want to collaborate.