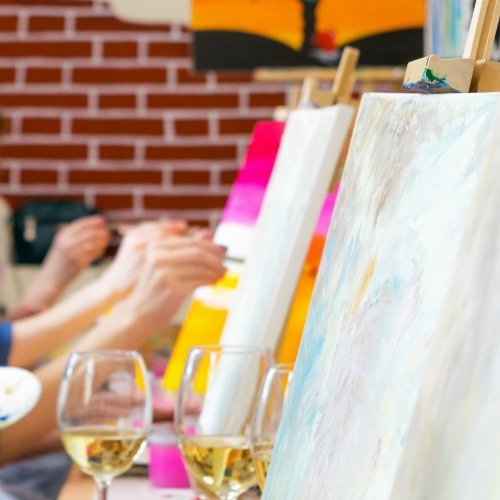 My first guest post of 2021
I have been approached by several external bloggers to share their posts. I love having input from other bloggers so am happy to accept their work, as long as it fits in with my core theme of mental health. In my mind being social helps mine, so maybe a paint n sip event could help yours.
During this pandemic we have had to get creative with how we lessen our feelings of isolation. Doing activities together with our friends and families online has been a big part of that which is what today's guest post is about.
Take it away Helene…
The current COVID-19 pandemic has taught us to stay home and stay safe. Yes, it has curbed our freedom to go out and have a great time with our friends whenever we wanted, but it hasn't curbed our creativity in any way. The lockdown has taught us how we can make the most use of the time on our hands. One of the most innovative ways to enjoy with our friends without stepping out of our homes is paint n sip events.
What are some ideas for paint n sip events?
As you sip a glass of your favorite wine, and while you unleash your artistic capabilities, do you also want to party with your loved ones? Here are some popular paint n sip event ideas that are in vogue today:
Paint at Home Kits
These are virtual painting kits that are available for both kids and adults. It contains all the essential materials such as canvas, colors, brushes and detailed instructions on how to paint. This is a great way to spend time with your friends and family. There is nothing more exciting than painting and sipping your favorite wine at the same time.
Girls' Night Out
Book your private painting party as you get to enjoy interesting painting sessions with your girl squad. All you need to do is get the services of the right studio, so that you only have to carry wine & snacks for the outing. As a professional artist trains you on using your painting kit, you and your friends get an excellent chance to let your hair down and laugh merrily like kids while creating wonderful pieces of art.
Paint Date Night You may have come across many interesting date night ideas, but painting tops all of it. Painting date nights with your loved one helps you feel relaxed and create great memories. Enjoy wine, cheese and chocolates at a studio near you, as you get an artist to guide you through creating beautiful artwork on the canvas, while all the painting supplies provided by them. Isn't this a far exciting idea than watching the same sitcom together again and again?
Team building office parties
Team building sessions are no more boring when you get to paint, drink and socialize with your office friends. All you need to do is to arrange for your drinks & snacks while you book a team building paint party. With the studio arranging the art supplies for you, you just have to paint, let go of your inhibitions and get to know each other in your team.
For more information:
https://www.paintingwithatwist.com/studio/denver-lodo/
Although Helene is based in the US I have been assured that us Brits will still be able to access some of the features. Let me know if you try it out and how it goes.
Until next time, TTFN.
As always please feel free to like, comment, share and subscribe to this blog and my social media channels 🙂