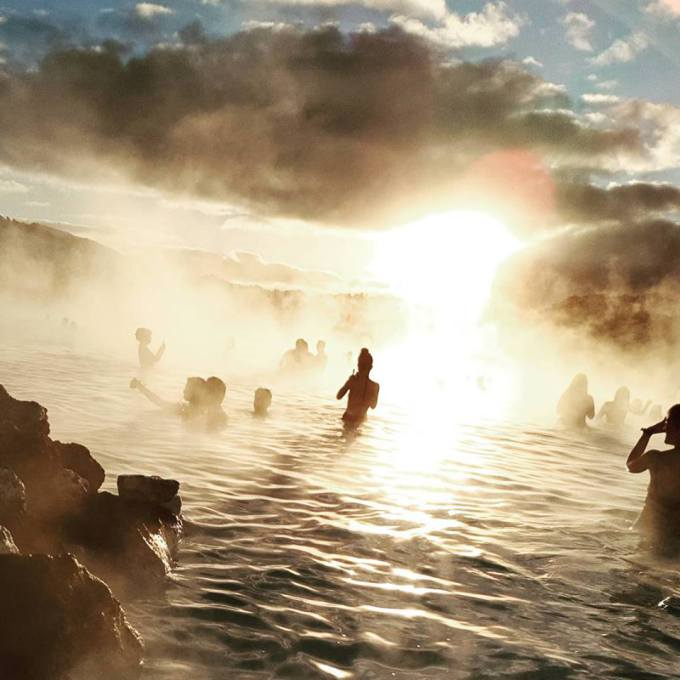 My first guest post (yaaay) is by my friend and work colleague Summer who went to Iceland with her boyfriend last year so I asked her to give you a different opinion to my blogs, a bit more in depth info of Reykjavik and also it's a good excuse to use someone else's photography…
November 2017 we went to Iceland for a romantic anniversary holiday, the first one we've had just the two of us. We only went for 5 days, Thursday to Monday so no time to travel around and do the long trips most people do in Iceland. The first day we landed mid afternoon and got the coach to Reykjavik. By the time we arrived in the town centre it was almost dark but it had started snowing. Not the kind of pathetic snow we get in England, huge flakes just floating down. It was magical. We walked about 2 blocks to the Air BNB we had rented out and it was adorable. A little cabin in someone's garden, fully furnished by Ikea.
Friday morning we walked from our Air BNB to the centre of Reykjavik to the biggest church in Iceland, Hallgrimskirkja. We also spent a lot of time trying to say it. The walk was roughly 4km and took us an hour. It was a lovely walk though through parks and the city centre surrounded by freshly settled snow. I am not ashamed to say I fell down. A lot. From the church we got on another coach and headed out to the Blue Lagoon. The drive was gorgeous, showing the rural side of Iceland and the emptiness of the countryside.
The Blue Lagoon was fantastic. When you arrive you are given a bracelet that lets you enter and purchase things so you don't have to take money in the springs with you. Depending on the package you get, they supply you with bathrobes, towels and a free drink. I have to admit, the first part of the Blue Lagoon was horrible. Standing in nothing but your swimming costume walking from the front door to the water is freezing. The distance isn't far but I was blue before I finished the journey. Of course it wasn't until later we realised there is an inside entrance to the water so you don't have to get cold. Other than that it was amazing. There is a face mask bar in the water with one free face mask for all and another you have to pay for. The water is truly refreshing creates a wonderful steamy atmosphere as the heat hits the cold air. To top it all off, there is a bar in the water. I have not experienced a blueberry slushy in a hot spring before and I doubt I will again but I would definitely recommend it.
The only real point I would warn anyone else of it to believe the guides when they recommend you put conditioner in your hair and leave it there. Apply this knowledge to the whole trip. The water in Iceland is affected by the sulphur from the volcanoes and, as such, does some truly horrible things to your hair.
Saturday and Sunday were then spent exploring. We did a couple of boat trips but mostly walked around Reykjavik. We used an amazing boat trip company that offered ethical trips to see the marine life and the Northern lights, and also provided education on the trips. We saw some beautiful Dolphins that spent almost an hour chasing each other around the boat. If you go in the summer time you are likely to see various types of whale as well. We learnt quickly that Reykjavik is not the kind of city you can just wonder about. It's bloody freezing. This meant we explored various museums and shops just to get some heat. We went to their national museum which features Vikings a lot less than I would like but does tell the story of a laid back and peaceful nation. We visited the volcano museum which has exclusive footage of the Volcano eruption in the fifties???? As well as a wonderful documentary about the 2010 eruption that affected the whole world except Iceland itself. We then found a lovely small shop called Cupcake Iceland. This little cupcake shop has amazing different cakes. The owner is brilliantly friendly, the hot chocolate is fabulous and it's lovely and warm. The best bit though, it despite being a cute little place with such quality, it was also the cheapest place we went in the whole trip. Finally we went on a night boat trip in an attempt to see the northern lights. Unfortunately we didn't manage to see them but the boat ride was fun anyway. The company did offer us tickets to go again for free so we could have another chance.
After all of that, on the Monday we got back on our coach to the airport and went home.
It was a fantastic holiday for a few days and unlike any other place I've been to. The only tips I have is the hair thing, the water really will kill it, and to keep in mind the country is not a cheap place to go. Other than that, I really would recommend visiting it, the people are fantastic and the country is beautiful, just have a look at the photos we got.
I will just add that on top of the expenses of Iceland, do be aware that due to the sulphur in the water everything and everywhere does smell like rotten eggs, weirdly you get kind of used to it but still, it's quite the shock to the system initially, especially when showering because you feel clean but the water smells dirty… weird.
Anyway, if you want to see any more of Summer's photography why not check out her instagram.
Until next time, TTFN
Have you been to Reykjavik? What did you get up to? What do you think of this guest post? Let me know in the comments.