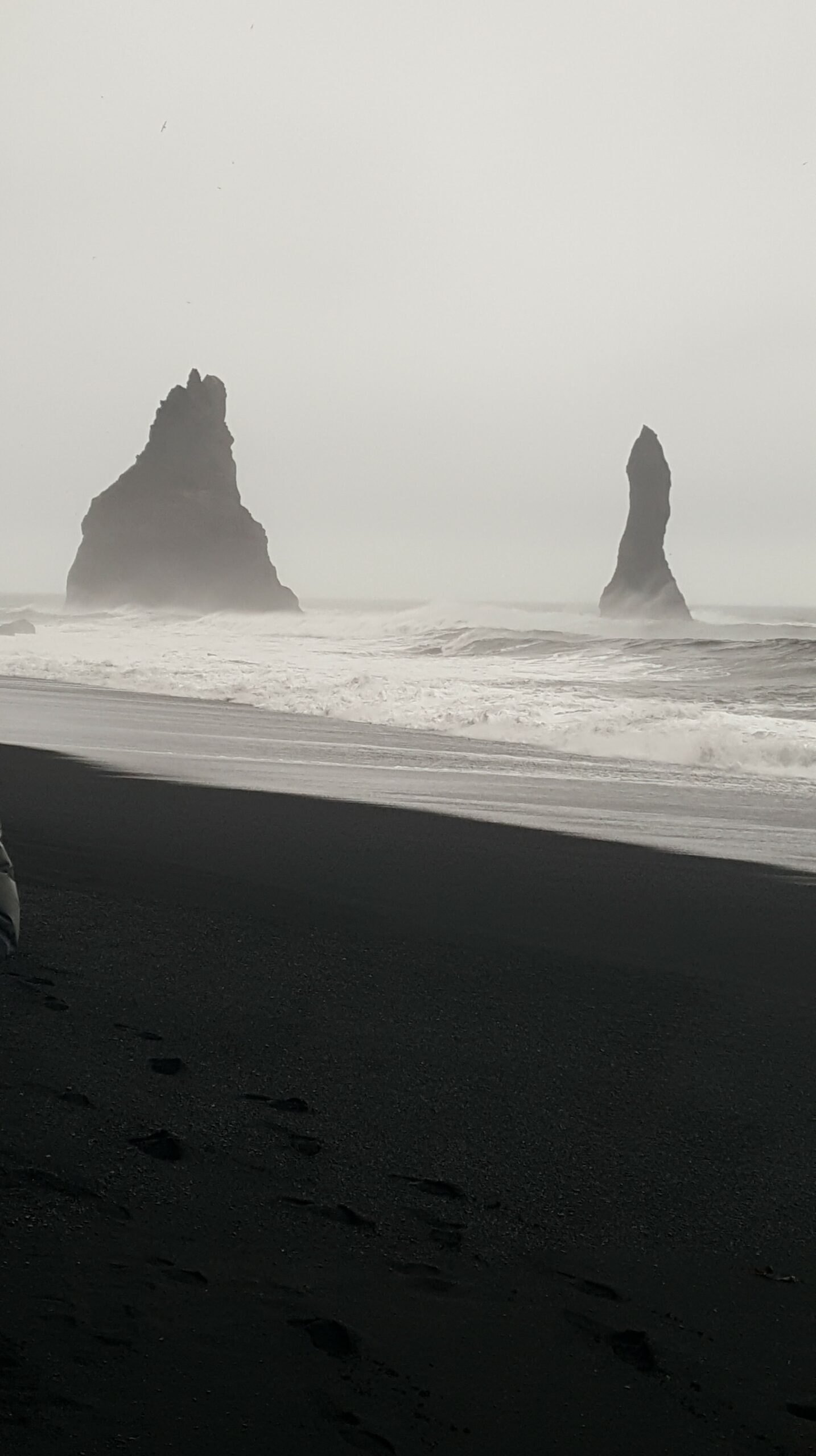 Our second half of the holiday was just as adventure-filled. Day four we ventured to the Black Beach- such a surreal place- the sands are black, the caves look metallic, it feels like you're in a scene from Star Wars or something, it's beautiful but very strange. The day we went it was rainy and windy which in our eyes was perfect, it added to the feel of the place, if we'd have gone when it was lovely and sunny it would have been a very different experience. We stayed there for a while, walking along the beach, a few of us playing chicken with the waves (caught a hilarious loss on camera but can't put videos on here sorry guys), skimmed some stones, went exploring in the cave type places and did a bit of climbing over the rocks and things. Due to the weather the sea was extremely rough, the rain soaked us (luckily we were in our waterproofs) but it all just added to the atmosphere of the place.
Afterwards we drove to a waterfall we had passed on our way to the beach, there are so many little waterfalls all over the place as you drive around as well as other stunning sights, but as this one seemed to have a car park in front and was rather sizeable we thought we'd take a closer look. We parked up, wandered over to the base of the falls, got soaked by the spray because we wanted to get as close as possible (it was also still raining), then walked up the steps that had been built next to it. So many steps!
Definitely our exercise quota filled for the day, we all got to the top, got our breath back and looked over the top of the waterfall, looked around at the views, took a few cheeky selfies (even though I resembled a drowned rat…), felt a sense of achievement after doing so many steps whilst on holiday, then had to walk all the way back down. When we got back to the car so we didn't soak the seats we stripped off our top layers and bundled them into the cars before heading back 'home' to dry off, shower, change and get cosy in our pj's, have dinner and then some family quizzes and snacks.
Day five was a bit of a geeky day for us Game of Thrones fans as we were going to the Þingvellir (Thingvellir) National Park where they filmed some of the series, but first we made a stop to a huge crater we happened to pass, it looked more like a mini volcano than a crater, there was water in the base that had frozen over and a rainbow arching from one side to the other (was gutted when we walked all the way around and found no pot of gold), we walked down to the water as well as there was a sort of path down and a wooden platform on the edge. There was a fair bit of clean snow dotted around as well as having sludgy mud, Iceland weather and its scenery is a very mixed bag, so we had a little snow fight on our way back up then made our way to the national park.
When we arrived we couldn't find the entrance we wanted to start at but thought we'd explore where we stopped, there was a Game of Thrones costume wedding going on so had to be quiet and couldn't walk the path we'd planned on following so after a short while we decided to get back into the cars and drive around a bit further and start our walk there instead.
Thingvellir is beautiful! it's also huge, we probably didn't even cover half of it and was knackered from all the walking before we decided to call it a day. There are so many different environments in one place, there are lakes, marshes, waterfalls, caves, hiking trails, fields of rare plants, ravines and all sorts to explore, internet searches when we got back informed me there are even two diving locations, its also on two tectonic plates so is constantly shifting which is pretty cool (not enough to feel it but still) and obviously a little shop but we didn't go in because I knew I'd spent too much…
We wandered around for hours, found one of the waterfalls, I got mesmerised by the views of one of the lakes and imagining what life would be like if I lived in the little house on the edge of it. We walked through paths feeling dwarfed by the extremely high stone walls, witnessed the costume wedding, explored the little areas that split off from the main signed path, took sooo many photos, and just felt so tranquil, its a stunning place and it was the perfect place for me to ponder life before we headed home for another cosy night in, this time with a stint in the hot tub and jumping into the snow then getting back in. If you go to Iceland and want to go to Game of Thrones filming destinations, The Telegraph did an article with quite a bit of usual GoT info.
Day six Rob, his sister, brother in law and I went on our own little adventure as Rob's parents stayed in the cabins, we were intending to go somewhere (I can't remember where) and ended up taking a diversion and ended up somewhere completely different, the weather was awful and the roads were really icy, and on our diversion the roads weren't that well kept so we were being knocked around a bit in the back of the car but decided to keep going and see where we ended up, we pulled up just before it got really snowy. We all got out, got our snow gear on, threw a few snowballs at each other- because if it's there you have to, right? When the weather started to clear we found a cave that used to be someone's home (there was a signpost at the bottom of the hill telling its tale but can't find the photo I took of it) so we thought we'd have a look around.
The cave was in two parts, and it looked like some of the top was formed by cooled lava because of the shapes it formed but we weren't sure, sadly there was graffiti on almost all of it some looked like it had been there for years but others looked a lot newer but it was interesting to see how this family may have lived, there was also still a lot of snow which had piled up so was entertaining to see us all trying to climb over it and the others thought it was hilarious when I kept falling through (I'm shorter than them so I would almost disappear), the cave itself was also on a hill so we decided to have a wander up it, then my boyfriend Rob and I got a bit stuck as we diverted from the path so decided to slide back down the snow covered section (avoiding the rather spikey looking plants dotted about) before heading back to the car, it would have been a great location for sledging. As it was nearing the end of our holiday we thought we'd have a relatively chilled out day, so we'd started with a lie in, went for our little adventure, went back to see the geysirs again and then headed back to the cabin to have a relaxing evening with the usual quizzes, snacks and giggles and a dip in the hot tub (running back into the cabin after getting out so you didn't freeze in the cold wearing just a swimming costume and flip flops).
Day seven was our volcano day, we drove to Hveragerði tried out the earthquake simulator, went around the museum, bought some sweet treats and cakes for later from a cute little bakery next door, did a little top up food shop at 'Bonus' which was a bit like Iceland's version of Lidl or Aldi (but with even more snack food and separate rooms for the refrigerated and frozen foods) then ventured out into nature. We found a little bridge across a river and started wandering around the hills and planes, there were hot springs cornered off and others that we could walk right up to, it was bitterly cold and was very windy so I was very grateful that I'd decided to wear multiple layers today, after a while we decided to head further up and climb a volcano… yep, an actual volcano, since looking up parts of Iceland I think it was Hengill which is a live volcano too although hasn't erupted in the last 2,000 years.
Only four of us decided to give it a go as it was quite the trek and because of the recent weather it was a lot of effort (strong winds, ice and snow on the paths, sheer drops off the side of some of the way round) but the four of us who started it all completed it. It was hard work and we had a lot of slips and trips and scary moments when we got blown around near cliff edges but it was such a brilliant sense of achievement and we saw some amazing views that I think I would actually do it again… maybe… but probably when it's warmer so I would feel comfortable enough to get into the waters at the top as it has been set out as if for holiday makers and we did see a couple walking back down who had gone for a dip in their costumes but none of us were that brave because it was FREEZING! When we drove back to the cabin we were welcomed (after showering, changing and warming up) to a lovely dinner before we had to start packing up and preparing to return home the next day.
All in all I think Iceland is an absolutely wonderful place, and one that I would happily return to, there is so much to do and we filled our week without even going that far from our cabin, there's so much of the island that we didn't get anywhere near to, I would love to try and explore the north of the island next time and would probably stay for longer. It is definitely somewhere I recommend visiting, especially if you love looking at the power of nature and what it has to offer, how it changes the landscapes etc. or if you want a pampering holiday as there's so many natural hot springs and spas about. The weather is bizarre and can go from one extreme to the other in a matter of minutes and there's so many natural phenomenon to observe.
Anyway, think I've rambled on enough for today.
Next week I will be having my first guest blog so…
Until next time, TTFN.
Where else would you recommend going in Iceland? Did you go to any of these places? What did you think? Any other GoT filming destinations you would recommend? Let me know in the comments.
As usual feel free to like, comment, share, subscribe, follow my other social medias and message me if you want to collaborate.