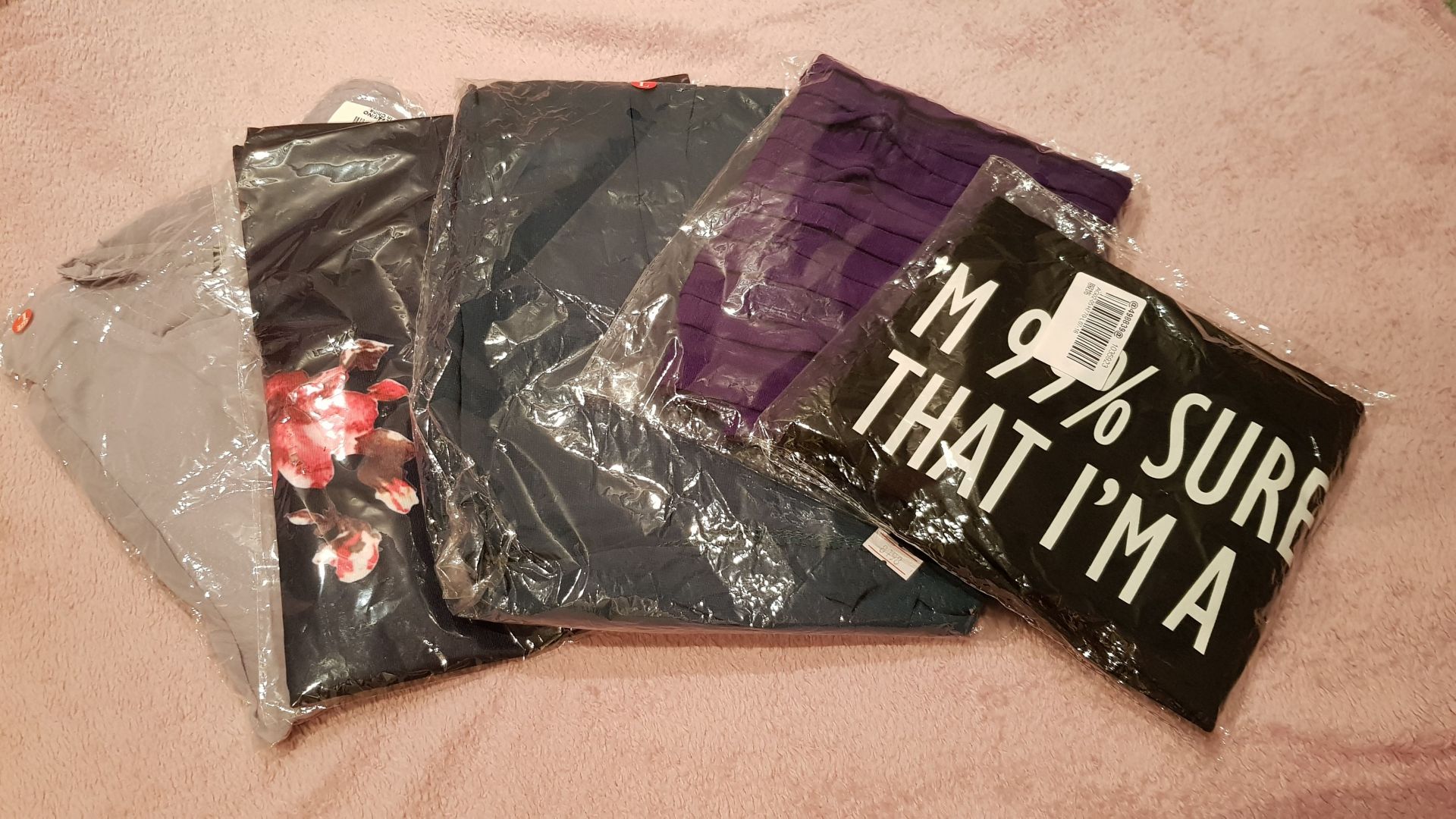 One of the sites that keeps being advertised on my social media pages is Wish. It advertises multiple different items and always looks like everything is a huge bargain, but when things are so cheap I always feel a little dubious.
I thought this would be a good site to test and review on this blog for you guys so I ordered a few clothing items (as I thought that would be the one that could go the most awry) and a few make up items I thought looked useful and waited with bated breath.
I ordered the first few items 27th July 2019 and everything arrived within a week but all of the items came in separate packages and each in plastic packaging, I dread to think how much of a carbon footprint and the plastic waste this site creates, luckily I can recycle plastic where I am but not everyone is in the position to.
Condition: On first look it all looks great but there were a few issues with some of the items. The same goes for the sizing as well…
Price: As you can see from the images they were all very cheap prices which is what Wish seems to pride itself on, I wanted to order a few bits from the site to see if you only get what you pay for or if it actually is a good bargain. It ended up being a bit of a mixed bag.
First item: I'm 99% sure that I'm a Disney Villain top in black.
I saw this top and just HAD to have it. I am obsessed with Disney and after over a decade of customer service roles I definitely relate to the villains more than the princesses/heroines in most of the films.
Upon trying it on it does come up a little smaller than I would have liked, specifically in the arms and chest but it's comfortable enough and I have worn it on a few occasions since. The wording is clear and after several washes is still in tact.
The item that arrived (other than the sizing) was exactly what I was expecting and it's just my self consciousness that makes me think its too tight. I give it 8/10
Next up: Body con skirt in purple.
This was the item I was most dubious about, no options for sizes and from previous experiences I am very aware that one size does NOT fit all. It arrived in an extremely small package, I unfolded it and it wasn't much bigger than my hand … It had a LOT of stretch in it though to be fair to it, it technically fitted and I could probably hide the fact it didn't fit if I really wanted to but it was definitely on the small side for me (not a flattering photo but it proves a point). I might just add it to the 'goal weight' pile of clothes I have been putting together.
The colour was as ordered and if I was a size 0-12 maybe even a 14 it may have fitted but for my size 18 self it was not something I have worn. I ordered this more to check I was right to be dubious so it's not really the fault of the company but I still only give this item 4/10.
Next: Chiffon Sleeveless blouse in Dark Green.
This item confused me. I ordered it in what I thought would be a really nice green and it showed up in blue, when I went to try it on the single piece of thread holding on all 3 buttons came loose and the buttons fell off, the neck was higher then I had anticipated and the top clung to me a lot more than it should have.
However, the material is nice and if I was smaller or if I'd have ordered it in an XL rather than just a large it may have hung off me more like the image from the website. I give this item 2/10 because of the colour error and buttons falling off before I'd even put it on.
Next: Floral print dress.
This dress surprised me and was actually in a good way!
I was expecting it to feel cheap, maybe stretch to see-through everywhere, not to sit right or to not fit me at all. However, I was pleasantly surprised- yaaay
Although it is not the best material the main part of the dress is stretchy and soft, the chiffon piece falls where it should, the colours were as the picture shows, the length was a little shorter than I was expecting but again that may be due to my own proportions as opposed to the design of the dress and I've worn it several times since and the length hasn't been a problem, it's just I don't like getting too much of my legs out usually, thick tights have been very useful.
I have no real faults here other than the length and the fact it does go a little bit see-through as it stretches in some places. I give this dress 9/10 making it the best clothing purchase from my Wish haul. Congrats to this dress!
Next: Chiffon Sleeveless blouse in Light Grey.
This top was meant to be exactly the same as the 'green' top I ordered, just in a different colour. This top though came in the colour I was expecting, the buttons were more securely sewed on, the neck is marginally different and it didn't seem to cling quite so much (or it may just be because I liked it more).
Again the material is lovely and this time there wasn't as much wrong with it but due to the shaping of it it does lose some of its points. I give this top 6/10.
Next: Knee high socks in grey.
I bought these socks because they looked so cute for winter and I had romanticised how they would look but sadly it is not at all what happened.
In the advert and in my mind I thought I could curl up in a pair of cosy grey thigh high socks with a fluffy dressing gown in front of my Christmas tree (I bought these back in December) and being kept warm by the fire. Instead when I put them on they went really see-through and didn't fit my thighs, plus I could only wear them up to just over my knees so I donated them to my friend who is several sizes smaller than me and got her to pose in front of her xmas tree instead (see below), gutted I couldn't get my cosy thigh high socks on but gave my lovely friend an extra Christmas gift so not all bad and they were only £2 after all.
These tights were super cheap but the advert makes them look a lot more luxurious, my friend says she likes them and they seem to fit her nicely but because of this false advertising of quality and the fact they didn't fit me I give them 3/10.
Now for the non-clothing purchases…
Next: Magic Eyeliner stamp pen.
The first make up purchase I opted in for was a make up cheating tool I had seen others using on my Instagram stories, so when I saw it on wish for such a low price I thought I'd give it a go. Boy was it worth it!
I have used this so often since it arrived. Whenever I want winged eyeliner this is the item I get out of my make up bag first. It's almost completely fool proof (if I can work it, anyone can), it has given me more confidence in my make up skills and I have been brave enough to try new styles and colours knowing I won't have to scrub it all off multiple times because I've mucked up the eyeliner. I love it!
I give this item 10/10 because it is so easy to use and is exactly what I was expecting, if not better. Definitely recommend!
Final Item: Make up brush cleaning set.
The box arrived quite crushed but the items inside were unharmed- phew- however after eventually finding the right sizes for most of my brushes one of them got stuck and has snapped the rubber insert so I can't use that one anymore 🙁 The rubber also didn't fit a lot of the other brushes so they kept falling out and getting water everywhere.
It wasn't the image that you see in the adverts that's for sure, I had dirty water splashed up cupboards and all over the floor and the brushes weren't that much cleaner when I'd finished either really.
I think if the rubber slots were better sized for my brushes it would have been good but sadly they were not and I haven't tried to use them since as it was much more hassle than it was worth, I've gone back to the time consuming hand washing and waiting forever for each one to dry instead.
I like the idea, if it fitted a couple more of my brushes, but for me it wasn't suitable so I give it 3/10.
What do you think of my reviews? Have you bought anything on Wish before? What did you think? Let me know in the comments.
TTFN, Until next time.
As usual feel free to like, comment, share and subscribe to my social media channels 🙂