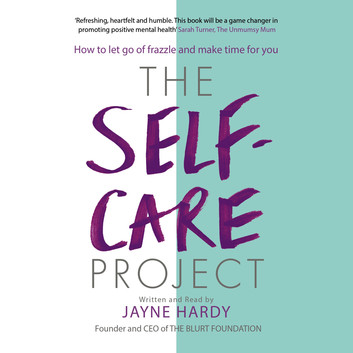 As this week was mental health awareness week I thought it would be a good time to review some of the books I have been reading recently. I have done posts about mental health before so if you want to read those just follow links one and/or two. Today though I am going to be reviewing three books all linked to mental health/self help, so without further ado lets dive straight in.
The first book is by Scottish author and coach Gary John Bishop called Unf*ck yourself. Get out of your head and into your life. 
This book is so easy to read through, unlike a lot of self help books out there (that I read the first page in the book shop and can already tell it's not for me so put it straight back onto the shelf) this one is humourous as well as thought provoking. The book consists of seven 'personal assertions' (affirmations/mantra type things) and the author writes about each one connecting it to real life examples and tells you to see what is actually there and not just what you think is there, it is great, not to technical but not so dumbed down it seems patronising either.
I actually purchased this book via the kindle app on Amazon, so it meant I could read it gradually across multiple devises. However, I didn't end up swapping between devises as much as I thought because I got so into the book I managed to read it in two sittings- one at work between calls and the other when I got home. I love to read but I'm quite a slow reader nowadays, probably because I stopped reading books for so long after uni (I studied english lit and drama so compulsory reading took over a fair chunk of my life during my course which put me off reading for pleasure) so that was a real achievement for me, to read a book in a day again like I used to, also shows how accessible it is too.
I would recommend this book if you want/need the motivation to change the way you think about life with a mental illness, if you like Scottish humour, if you respond well to affirmations and if you just need a kick up the arse to get you to make those all important and beneficial changes you've been thinking about starting for a while.
The second book is The Self-care Project by Jayne Hardy who is also the founder and CEO of The Blurt Foundation whom I have written a post on before, about one of their other projects.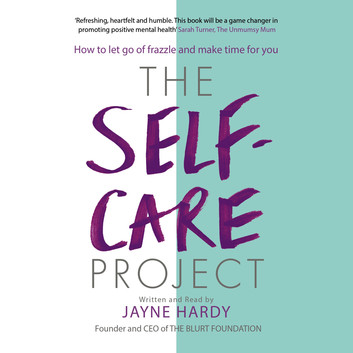 This book is a cross between a book and a journal, following a bit of information about the author herself there are tips on self care, what self care is, it's importance, signs we need to do more of it, how to fit it into a busy schedule, what to do depending on the context or your mood (self care when we crave comfort, self care for exhausted new parents are two of the sections) but there are also things to fill in throughout the book so it gives you the opportunity to mark down your thoughts, feelings, moods, energy levels, priorities, self care ideas, worries, all sorts.
One of the big messages is that self care is not about you being selfish, it can be a struggle to make room for it in our daily lives but it is an important element that more people need to start prioritising. We need to start looking after ourselves rather than running ourselves into the ground for the benefit of others and this book breaks everything down into bite sized chunks, almost like a step by step guide. Jayne is a sufferer of mental health issues herself and understands how difficult it can be to add self care into your daily routine, she is quite open about this, in fact the first chapter of this book includes a section titled nine ways I've sucked at self care. It's a very honest and helpful guide to self care.
I would recommend this book if you need a helping hand into making yourself a priority, taking time for yourself and practicing self care, the interactive nature of the book also means you make it even more of a personal journey and you are more prone to want to use the tips this book sets out as you connect with it more filling in all the blanks.
Book three is one I actually got given for my birthday, it's written by Ruby Wax, a Neuroscientist and a Monk and it's called How to be Human: The Manual. 
The book is broken down into sections covering aspects of our life, minds and bodies and explains how things are connected, how mindfulness can help within each aspect and opinions from all three authors. At the end of each chapter there is a dialogue between the three, it is mainly Ruby's narrative throughout the chapters themselves but you can see the mens influence and the input she had from the other two. There are multiple quotes interspersed throughout, bits of science (but with Ruby in charge it gets explained in layman's terms too), conversations  about mental health, parental tips, and of course comments and tips on mindfulness- there is a whole chapter dedicated to just that- this book gives you mindfulness exercises to go specifically with each of the chapters previously discussed in the book so it all ties in nicely.
Another refreshing change with this book is the fact that Ruby Wax has suffered with mental issues herself and is very open about this fact (as with Jayne Hardy) but also injects humour into most of it and how that then changes how she writes about these subjects is great, its not just technical terms or the bumper sticker quotes, there is comedy (obviously, she is a comedian after all) and real life examples from all three co-authors, it feels more like a conversation than a guidebook and because it is written by someone who has and still suffers instead of a mental health professional it is so easy to relate to and then you get the science of it all and how mindfulness could help at each step of the way.
I would recommend this book to those wanting to get into mindfulness or even just to understand what it is, I also intend to now buy the two of Ruby Wax's books published before this one as there are a few points in this book that refer back and I also just really enjoyed her writing style.
Obviously there are a huge range of self-care and self help books out there to choose from nowadays, but I respond more to the way these books are written and they are the ones I've read most recently. They aren't too pricey, don't overwhelm me with technical terms or words that I don't understand which would stop me from connecting with the book making me feel alienated and more stupid than I already do. These books are easy to navigate, easy to read in a few sittings, on sale in most book shops and online and whose authors also offer other projects you can delve into which means you can move on to something else if you want more when you've finished; Gary John Bishop has online courses, Blurt Foundation has a second book out called 365 days of Self Care: The Journal and Ruby Wax has first two books Frazzled and Sane New World.
Until next time, TTFN.
Have you read any of these? What did you think? What other books would you recommend and why? Let me know in the comments.
As usual feel free to like, comment, share, subscribe, follow my other social medias and message me if you want to collaborate.