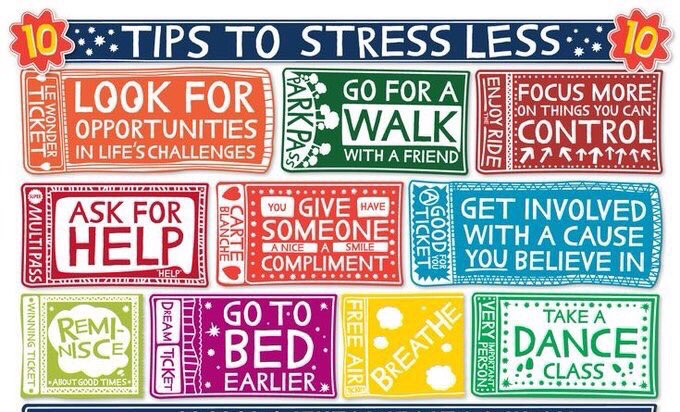 April is 2018's stress awareness month, not that I need to be more aware of how stressed I am these days, with my overthinking and everything else that's been going on it's not really the best of combinations BUT stress plays a major part in many people's lives nowadays, it's not always easy to cope with, and a lot of people suffer worse than I do. I have written a blog about stress before but as this is the awareness month I thought I'd write another.
There has been a stress awareness month every year since 1992 – which I didn't realise until recently. It is at this time each year that health care professionals can be found increasing public awareness of the causes and cures for stress. If you need help distressing yourself, or advice so you could help others, April is the month where the information is most easily accessible (other than the ever reliable Google searches) as there will usually be spokes persons around towns, in Drs surgeries etc spreading their knowledge.
Although as I said previously that it effects many people, it doesn't necessarily effect everyone in the same way, some people it seems to have very little effect, handle it extremely well and unfazed by it- I admire and am also jealous of how well this group of people handle whatever life throws at them- other people are effected by stress in horrendous ways, especially when mixed with anxiety and/or other mental health struggles, and then the rest of us are dotted at various points along the ladder.
Some of the most commonly known and 'easiest' cures for stress are to get outside into the fresh air for a walk or to relax in the sunshine soaking up the vitamin D, meeting up with friends for a big dose of laughter or generally anything that will distract you temporarily, a lot of them involve engaging your senses-sights and smells most often – I have added a few images at the end of this article with some more ideas for your perusal.
When I am stressed I often feel less so when I can wrap myself up into  human sushi roll, eat comfort foods and watch a film (most often a Disney/Harry Potter/kids film) without feeling guilty about doing so instead of something considered more urgent/important, listening to music and going for walks also help me, when I lived in Aberystwyth going to sit in the tranquil spot I found by a river with a good book while the sun was shining used to calm my thoughts.
I know it is something that has become almost a fad these days but self care is so important, and really does help if you know what approach you need to use, it's not just bubble baths, spa days and retail therapy, it's taking time for you to do what you need- physically, emotionally and mentally- even if that just means staying in bed because you can't face the day, making a blanket cocoon, sleeping the day away, binge watching an entire series, not getting dressed or showered and eating sugary snack foods or any other pastimes that make you feel less awful. As long as that gets balanced out with healthy foods, getting out of the house, exercising and being productive so you don't end up just winding down into the negative spiral of self loathing, self pity and the permanent feeling of helplessness because once that has a tight hold on you it is very difficult to get control of your life back (it is possible, just difficult), if this does happen to you just know that it is ok to ask for help, it is ok to not be ok all the time, it is ok to have duvet days, it is ok to do what you need, it is ok to say yes or no depending on your opinion rather than the expectations of others, it is ok to be you.
There are so many organisations that offer help, advice and recovery programmes for multiple mental health issues, raising awareness of the issues that are out there. Mental health is becoming less of a taboo subject but it's taking its time, the more open we are about it, the more we discuss it and the more awareness people have, hopefully the less nerve-wracking it will be for those suffering to ask for help.
I realise this post has gone from stress awareness to mental health awareness but I honestly believe that the stigma needs to be removed within our society of all mental health related issues, if everyone felt able to discuss it the stigma would no longer exist.
If you're after help and guidance a good website to start with for a list of mental health organisations contact details as well as other helpful info is time to change. There are also charities such as Mind and Together, as well as many other helpful paths you could follow.
Take care of yourselves and each other.
Until next time, TTFN.
How does stress effect you? How do you choose to de-stress? What tipswoud you pass on to others? Let me know in the comments.
As usual feel free to like, comment, share, subscribe, follow my other social medias and message me if you want to collaborate.