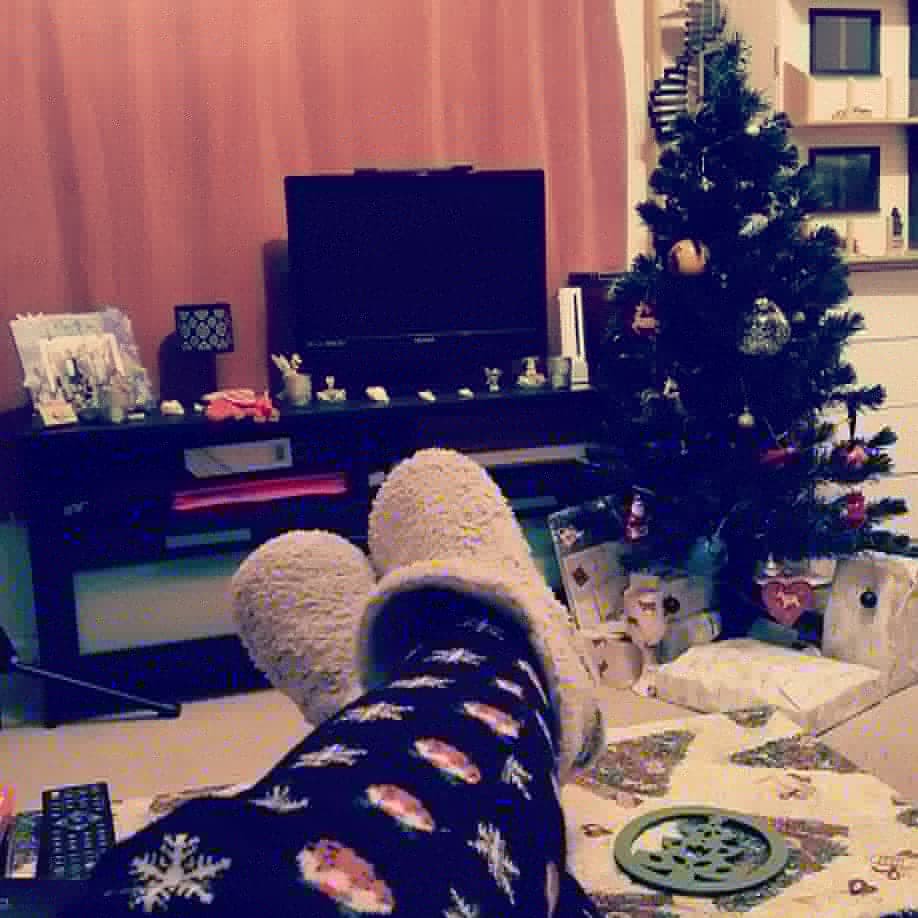 So, I've been living in my new flat for nearly 6 months now and I have made numerous alterations as the time has gone by. I started off with most of my belongings staying in the boxes I moved them in with (having filled all cupboards, drawers and wardrobe space available), I then went on an internet shopping spree and spent around £60 on Amazon for some temporary shelving and space saving things which I now plan to sell on as I've replaced them with more permanent furniture; I spent several hundreds of £££'s on the IKEA website on three shelving units (one of which I have never actually opened because I ran out of space so luckily managed to return and get my monies back on) and a tv unit which all arrived 7am one Sunday and were all up by early afternoon because 1- I am evidently awesome at putting together their furniture 2- I was determined to have somewhere to put my books and dvds and 3- I love an excuse to use my toolkit.
A few months later I had also added a bedside table, chest of drawers and sofa that one of my friends gave to me but has since moved house herself and taken them back so some of my clothes are currently back in an IKEA bag and seating in my flat is down to the edge of my bed again until I can find a replacement (had a few failed attempts so far so giving up for a bit), my mum gave me a cupboard load of books and my dolls house that I still had in my old room at home which is now my little brothers' bedroom, so I had to find space for those. I have a glass cabinet which is now filled with ornaments, photos and other nostalgia related items, there are also multiple Partylite candles, cushions, photographs and ornaments almost everywhere you look, it's definitely feeling a lot more like a home than the bare walls and having to go through cardboard boxes to find anything.
That's one of the things I love about moving, once all the stress of the actual move has passed and you manage to get most of your things out of their boxes, you can start to play with where to put everything, what decorations and little bits and bobs to put on each shelf, ledge or -if you're lucky enough to have one, sadly in this flat I am not- the mantelpiece. You can decide which pictures and canvases to hang up and how to make the new place look pretty and make it feel like a home, your home. I managed to make it feel extra festive around Christmas time too which felt great, felt so much better with the tree up and decorated with wrapped presents underneath it and other christmassy stuff dotted around the place.
I also find moving house a good time to have a good sort through all my stuff (there is a LOT of it!) and put aside items to sell/charity shop or that don't currently have a home within mine. At the moment this stash of unwanted items is piling up against my living room wall and taking up far too much space so I will be braving Ebay and other sites soon and possibly doing a carboot (if I can rope in a helper or two with a car) to try and sell as much as possible so I can have more space and extra money. If any of you are based in or near Cheltenham and want to buy any of it there will be lots of things going up in the not so distant future, hopefully…
Once I put up the shelves, glass cabinet and TV unit and sorted my clothes, cds, dvds, books, ornaments, candles etc etc etc out into the various cupboards, shelves, boxes or display places around the flat I found I had so much more space! I still have a fair way to go before I'm completely happy with it, replacing the furniture being one of the steps, selling the ever growing pile of stuff spreading into the middle of the room is another, but I've also said I want to sell pretty much all my clothes and start again when I have the money to do so and massively downsize on my belongings in the hopes that I could easily put it all in a store room and jet off to a foreign land in the near future. I will move things around numerous times before I settle too then when I'm happy with it I'll probably end up moving as I'm looking at making a few changes in the next few months.
If you're moving or looking at changing things up at home and are after some tips, colour schemes and/or space saving ideas, a great place to look is pinterest, there's always so many creative ideas on there, a lot of which I hadn't thought of before. But for now my flat is going to have to stay as it is… wonder how long it lasts this time…
Until next time, TTFN
Have you recently moved? What are your home improvement suggestions? Any space saver tips? Where do you shop for home décor? Let me know in the comments.
As usual feel free to like, comment, share, subscribe, follow my other social medias and message me if you want to collaborate.