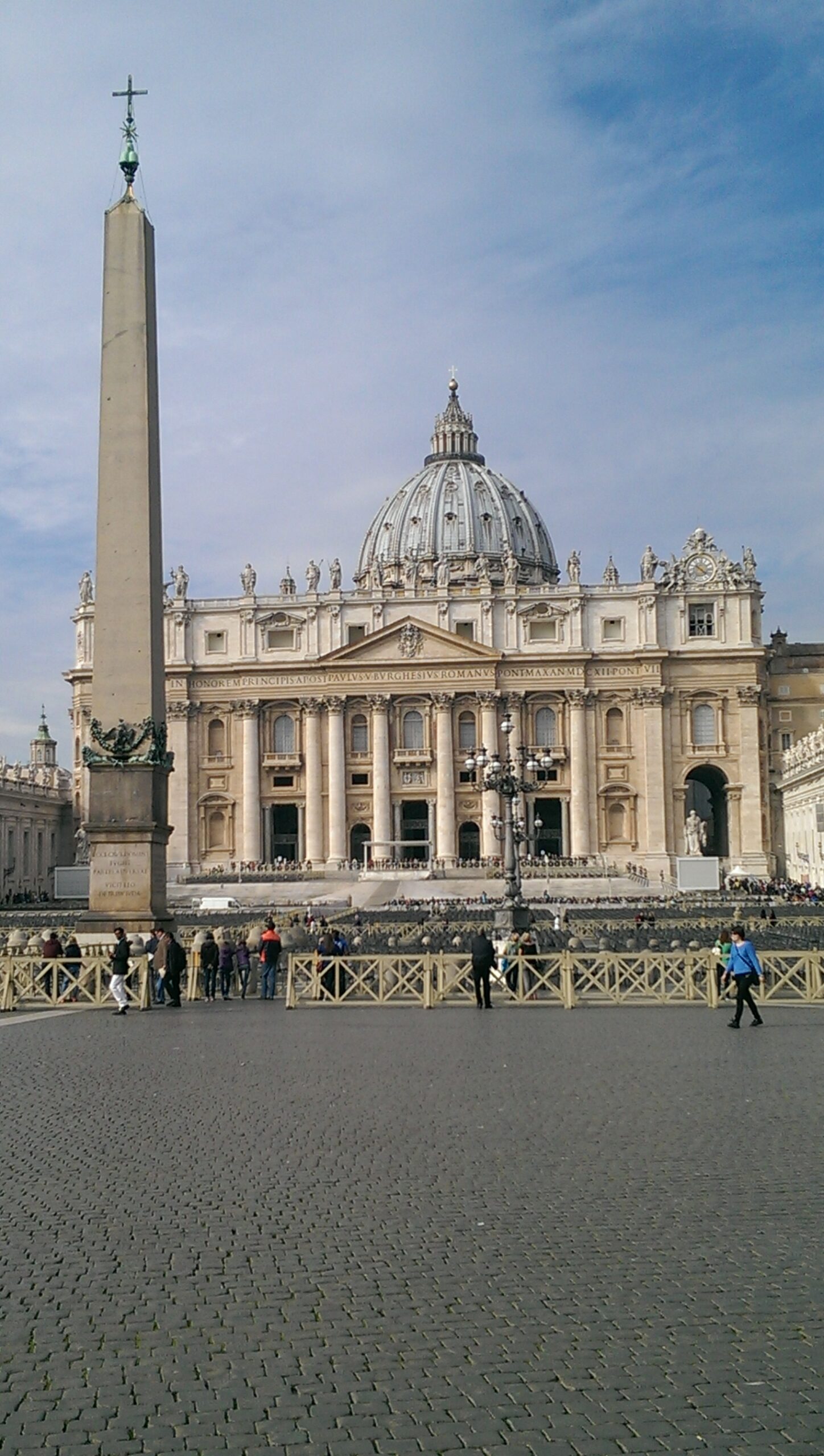 Day four of our mini med tour and it was our day to visit the Vatican City and Rome. We knew this was a lot to pack in to one day and it was a very early start. We got up, got ready, watched the ship pull into the harbour from our cabin window, had some breakfast, then got on a bus with our tour guide for the day, which would take us to the 'Roma Express' that would take us to (and later pick us up from) Rome.
We were all given maps and an itinerary for the day on the train, got an intro of our Thompson tour guide and a bit of information about the places we would be exploring. When we arrived we got introduced to another tour guide who would be there to give us the historical information as we went around today, we headed straight to our first stop-the Vatican City- where I took a LOT of photos inside and out, the queue to get inside the building took quite a while but with all the photos I was taking of the various sculptures and the fountain and of the three of us it didn't seem to take too long.
I don't think I have ever seen and felt so much culture in one place before, and a day is definitely not long enough to cover everything the Vatican City and Rome has to offer! It is an incredible place and one where I need to return to. If you haven't been to the Apostolic Palace in Vatican City please add it to your bucket list, the amount of stunning paintings, sculptures, history, architecture etc is crazy, even if you're not religious this place is incredible. We went round it for ages and we still wanted longer, if we'd have gone on our own we could have spent most of the day there but due to the tour we had to move at the guides pace and vacate the building when told, we were allowed a short stop to go into the nearby shop and buy souvenirs if we wanted before walking around to the restaurant we'd had reserved for our lunch.
Delicious food, good wine and made a few new friends around the table which was lovely. I can still remember how good the tiramisu was now two years later and considering Jac doesn't like that kind of thing he volunteered to finish mums off when she was full so it had to be good but sadly I cannot remember the name of the restaurant to be able to pass onto you lovely lot, apologies.
After food it was time to get on a bus, we had a bit of a history lesson as we drove past multiple ruins, bridges, plaques and the like before getting off to go to the Colosseum and learn its history, sadly it was half covered in scaffolding due to some repairs being done but it was still amazing, we didn't have the time to go inside it which is something I would like to go back and do but even from the outside it's pretty impressive. We saw the Colosseum, took lots more photos, found some horse and carts which looked beautiful, avoided the men dressed as Romans so we didn't get scammed but took a few sneaky photos of them, saw the Arch of Constantine and then had to get back onto the bus.
After another brief history lesson and another bus journey past more impressive pieces of art and architecture, we got off to walk. We passed several small boutique type shops and lots of little souvenir stands which mum, Jac and I wanted to stop and look in and get some gifts to take back home for friends and family but we weren't allowed to stop. We walked to the Spanish steps, saw all the designer shops, the Fontana della Barcaccia, the Colonna dell'Immacolata, then continued on to the Trevi Fountain. Again, sadly they were inaccessible due to repair work, they were surrounded by Perspex so we could still see it but not filled and ready to take our wishing coins but our tour guide told us all about the traditions of the fountain and the meaning behind the amount of coins you throw into it; 1 for a return to Rome, 2 for new romance, 3 for marriage, and then he cheekily added that it's 4 for a divorce because that's the most expensive.
After we'd taken it all in and taken multiple photos, trying hard not to get too much of the building work, builders or barriers in view we decided to go into the lovely ice cream parlour which was right next to us while we had the time for a mini break and exploration. We got ourselves ginormous ice creams the size of our faces, then I snuck back the way we came to get some little souvenirs for people (magnets and keyrings and things) while mum waited at the meeting place to let them know I hadn't left.
When we were all back together again- I actually wasn't the last back- we set off again towards the Piazza Novana, more gorgeous settings and picturesque scenery as was now becoming the norm (my photos just could not do this place justice), while our guide was talking through the history and meaning behind the various monuments and things mum and I spotted some gorgeous artwork of Rome for sale in the centre that we wanted, there was so many stalls selling artwork and ornaments but we spotted someone selling paintings in the kind of style we like and we didn't want to miss the opportunity, so we asked our initial guide if we could sneak off for a moment and buy some and then run after them to catch up if need be. We got our artwork and the guide finished talking just as we were heading back so timed it perfectly and got the paintings we wanted and now both have hanging up proudly in our homes.
Our group was now walking towards the Pantheon, on the way I noticed that a few of the people on our tour were the entertainers from the shows we'd been watching so I decided to strike up a conversation and ask about life as an entertainer, they were lovely people and were happy to talk but I felt bad for talking about work with them when they were on a day off so kept it short, they told me how they'd got into the jobs and asked about my performance experience which we very sweet of them and gave me a few pointers for getting into the cruise ship performance circles.
We reached the Pantheon- it's stunning. So much in a relatively small space, obviously you have to show respect as it is a religious building but they all allow you to take photos, and we definitely took full advantage of that. Dread to think how many photos I took around Rome, but there was just so much to see and I wanted to document it all.
After that it was a short walk to catch the Roma Express back to our bus to take us to The Dream. By the time we got back it was pitch black outside, can't remember what time it was but it was definitely a long day, we were all knackered, but also hungry so went to get dinner, and of course a cocktail or two and then headed back to the cabin for some shut eye ready for our next exploration.
Until next time. TTFN.
Have you been to Rome or the Vatican City? What was your favourite place/memory? Where would you recommend seeing? Where should I explore when I return? Let me know in the comments.
As usual feel free to like, comment, share, subscribe, follow my other social medias and message me if you want to collaborate.
*All the words and photos within this blog are my own but the links are not. No endorsements or collaborations, just a simple google search to find the most interesting/informative articles, websites and blogs to give you all a bit more info without going on for pages and pages. I do not own or have any connection to any of the linked pages.