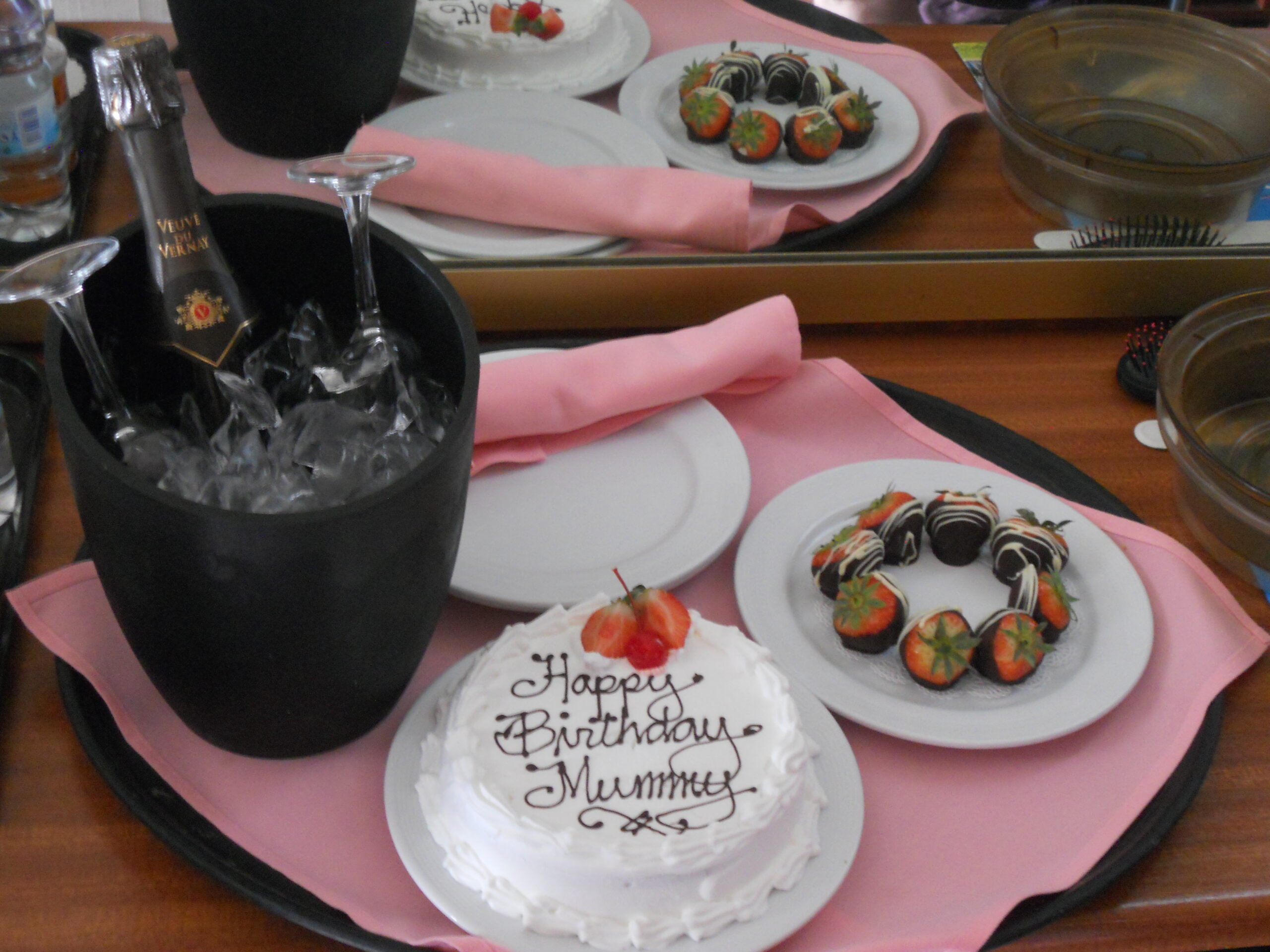 Saturday- day two of our Mediterranean adventure.
Today was our one day when we would be sailing for the entirety of it, one day to make full use of the ship and its facilities without getting off at a different destination, so of course we attempted a lie in. We'd already done a quick scout about the ship yesterday so we knew where we were meant to go for our breakfasts, lunches, afternoon teas, dinners, where the various bars were for our cocktails, where Jac needed to go if he wanted to go to the kids club and where the pools were.
I had also been a bit sneaky on our first day and as we were on this cruise as an early birthday celebration for mum I'd inquired at reception about birthday treats that were offered on board while mum was looking around elsewhere. Turns out they do quite a few different options, and deliver to your room, so I ordered a bottle of fizz, chocolate dipped strawberries and a birthday cake to arrive at our room for us today to start our first proper day on holiday. Mum had no idea I'd got them and was pleasantly surprised by the treats (once the confusion of someone knocking on our door when all three of us were inside the cabin had worn off that is) and although I'd bought them for her she was lovely enough to share, I think that Jac and I ended up having more than she did in the end-oops- it was delicious though!
The two of us who are legally allowed to have the alcohol had a glass of the fizz each for our breakfast and we all had some of the fruit to start our day but thought we'd leave the cake for a bit later.
We got ready for the day, finally left our cabin and went upstairs to have the days recommended cocktail, yesterdays was a topical 'Bon Voyage' todays was called 'By the Pool' which was where we spent our morning. Mum and I sat on pool loungers on the deck looking at the endless ocean we were sailing in, reading a bit of our books, sipping on cocktails and relaxing while Jac swam and messed about in the pool until we got hungry for lunch. Then we had a various assortment of foods, went for a wander around the shops, mum bought a gorgeous necklace and earring set and I decided on a couple of Pandora charms after spending ages looking at all the ones I would have happily spent my money on. We then headed back to our rooms to have showers, got into our onesies, finished off the prosecco (we'd managed to put the cork back in and left the bottle in an ice bucket while we were out so was still lovely and cold with lots of fizz locked in), cut into the cake and relaxed for a bit before having to get our glad rags on.
As this was our day at sea it was the night for the dinner with the captain, so mum and I got our ballgowns on and Jac put on a suit to get our next drinks from the cocktail menu and watch the next evenings show. Jac wasn't allowed to come to the dinner so after the show he and mum went back to the cabin for him to change back into his onesie for the kids club sleepover he'd be going to while we wined and dined, mum dropped him off while I stayed behind to save our seats and get the next round in as before the meal began there was to be a ceremony of some kind in the same place as the shows, so because I'm lazy I volunteered to stay put until mum came back.
They started the evening with an intro of all the heads of staff, the captain gave a speech and they gave us a bit more information about the trip, the plan for the evening and about the members of staff who had been dragged onto the stage. We then all left the auditorium to queue up to get our photos with the captain before taking our seats for a lovely three course meal.
Mum and I were sat at a table for just the two of us rather than one of the massive tables of 10/12, not actually sure why but it was nice to have a fancy dinner and just have a giggle with each other without the pressure of others around us finding out how weird we are. I ended up getting serenaded by a guitarist every time he walked past our table, mum thought it was hilarious, more so probably for the fact I was really awkward because he kept just staring at me as he sang and played guitar but he managed to leave us alone long enough for us to enjoy the food so it wasn't all bad I suppose, he stayed long enough for mum to take a video of the ordeal first though.
After our meals we wandered around the ship and noticed they had put up several backdrop areas for photo opportunities that you can buy individually or in packs in one of the shops on board, so we gave them a go, some on our way to get Jac and some after, so there's several photos where mum and I are in posh ballgowns and Jac is just posing in his onesie. I love it!
Once we'd had our fill of photo sessions we went to the cabin to change out of our ballgowns into something a bit more casual, got Jac some food as he didn't have much in club and watched the sea with our next round of cocktails, we then went into one of the bars as there were quizzes and performers so had to have a cocktail or two whilst watching them as well.
We finally headed to bed as it was getting quite late (and because Jac was almost falling asleep in his chair), got into our pjs and hit the hay hoping to get a good nights sleep before getting off the ship and exploring our first destination of our med tour.
Until next time, TTFN.
Do you do well on boats? What would you do while at sea? Would you watch the shows, go shopping, go swimming or just be purely gluttonous? Let me know in the comments.
As usual feel free to like, comment, share, subscribe, follow my other social medias and message me if you want to collaborate.