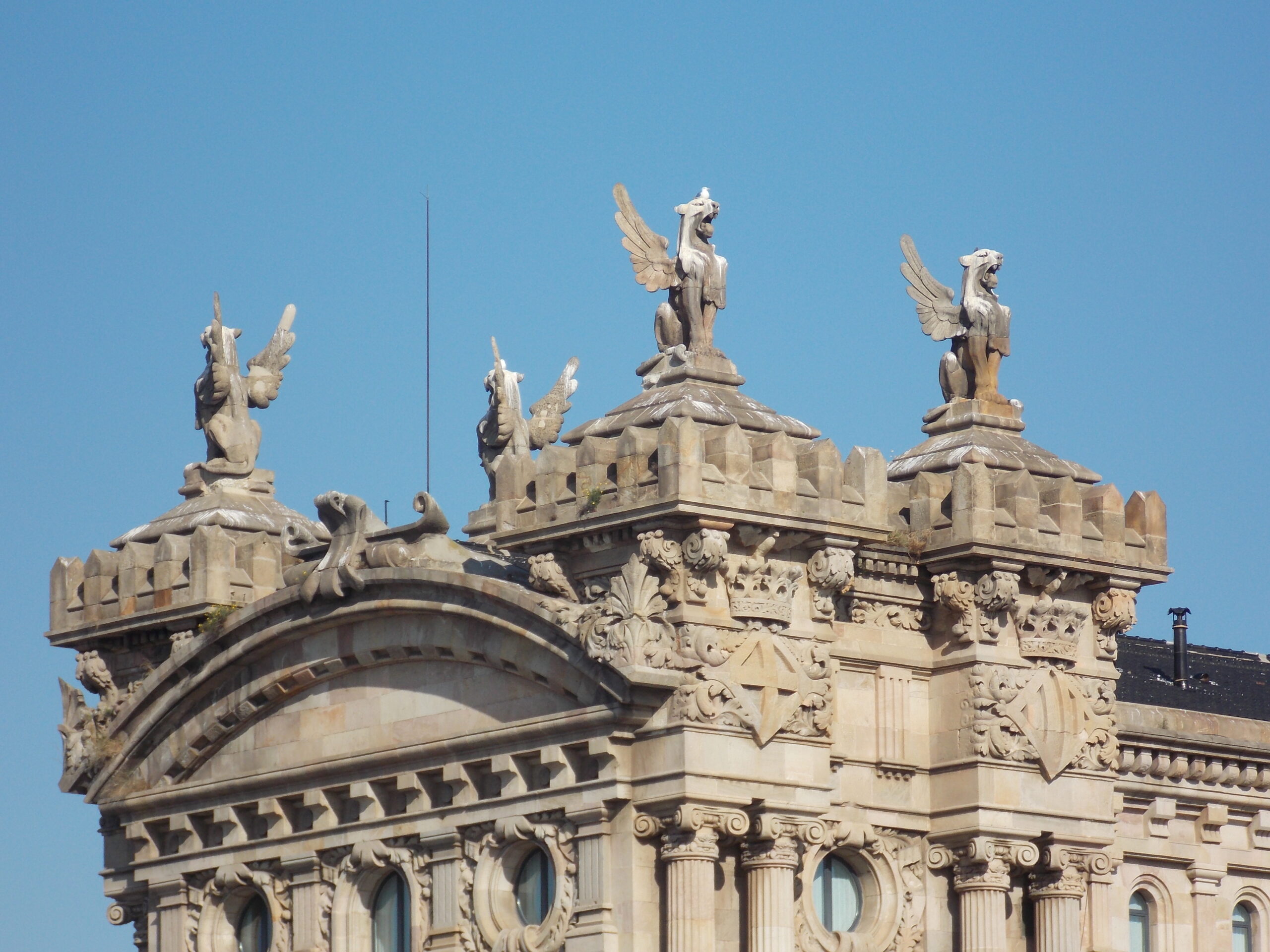 Our final stop before we had to start making our way back was Barcelona.
Now, obviously it's a bit different now after the 2017 attacks that were in the news, it's so awful seeing what people are prepared to do to each other these days, the world has gone mad but this is not the post to delve into politics or other extensive topics, I want to tell you about how beautiful Barcelona was when we went two years ago, and hopefully what it has managed to regain over the last few months.
We again woke up and watched the ship pull into harbour, then as we knew everyone would be racing to get off we decided to wait for the queues to go down and go for a more leisurely pace for our final exploration day, we got washed, dressed and everything before going to one of the breakfast areas, had a cooked breakfast, we ate as much as we could so we wouldn't get hungry too quickly.
Today we managed to dock so close we didn't need to get a little boat to land or anything, a gangway was put up and we walked directly from the boat and straight onto Barcelona soil, well paving. It was another destination with beautiful architecture, statues, fountains, bright sunshine, lots of photo opportunities, places to explore, shops and eateries.
We made our way to La Rambla via the statue of Christopher Columbus, we took several photos, my little brother loved posing with the lion statues. When we got to the start of La Rambla there were various human statues who were very impressive, some very bizarre statue choices but the fact they can stay that still for that long no matter what their attire is pretty darn impressive! We saw someone dressed as Marilyn Monroe on one of the balconies a few levels up, we watched for a few moments but then got worried it was a distraction technique for pick pockets (the area is well known for pickpockets but it's sad to think that's where our minds went to while on holiday). We made our way up the street scouting out the various things we planned to do and buy on our way back down it -didnt want to be carting multiple bags around with us all day when all the places would be open on our return anyway- there were multiple street artists ready to paint/draw/sketch your portrait or caricature, every other stall was selling souvenirs but all were filled with tourists even though most were selling the majority of the same things, stalls selling artwork, postcards, clothes, hats, jewellery, scarves, ornaments, magnets, key rings etc, lots of cute little cafes and boutiquey shops. We found a stall selling all sorts of sport merchandise too, my little brother took ages choosing which football to buy when we returned later in the day.
The street itself is quite impressive too; lined with trees, stretching 1.2 kilometres (I googled), joining the statue of Christopher Columbus to the Catalonia square and with a lovely view of what I think must have been the Sagrat Cor which I took a photograph of through the trees of La Rambla.
When we got to the other end we were greeted by even more shops, this time although it had some of the older architecture and statues and sculptures dotted around it seemed more modern, large fountains within a circle at the centre of the opening, fast food places and restaurants instead of the cute little cafes, big brand clothing shops rather than the market stall types we'd just walked past.
We went a few different directions off this central circle, we found a disney shop that we of course had to go into, the gorgeous gothic Barcelona Cathedral as well as other spectacular buildings, we turned and went down one area which seemed to be filled with art! Multiple figures within a small area, and then more buildings, all quite gothic looking in style but with no tour guide or guide book we had no idea what the majority of them were which is a shame, but a few of them looked liked religious buildings.
After we'd explored a few areas and failed to find what we were searching for, Mum wanted to go and look around at the Gaudi artwork as we'd seen information for a place almost filled with his artwork so we were intending to go there, Mum loves mosaic art and as we were in Barcelona we thought we'd give it a go but although we had a map, we kept reaching dead ends instead of finding what I now assume was the Guell Park and/or Gaudi's Sagrada Familia. We found postcards and all sorts showing us it existed here but couldn't find it so after several attempts and walking in various directions we gave up.
We made our way back through the crowds and back to La Rambla, looked at a few of the artists and my little brother and I decided to get our caricatures done and bought a few bits and bobs from some of the stalls as we went through. We took more photos of the buildings we passed, found a few more different stalls as we headed back a slightly different way too, bought myself an art deco gecko keyring. We were also passed by a tour group going around Barcelona on Segways-always been intrigued by these things, don't trust my balance skills enough to try it though.
Once back on board we went to the on board shops (Pandora, Swarovski, clothes, jewellery, the shop where you get your photos, hair accessories, handbags etc) I spent far too much during this holiday and that includes starting off a Pandora collection and adding several to it within the week. We then went for some food, had the days special cocktail then relaxed by one of the pools as it was getting dark and we knew we would be heading out again soon and we wanted to watch the crew pull up anchor and watch Barcelona drift off into the distance before getting our evening meal. As it was getting dark by the time we were pulling away the ship had turned its lights on (looked like fairy lights) and Barcelona was lit up in all its glory. Good excuse for several more photos.
We stayed on the balcony for ages, messing about, having a laugh, taking photos, watching everything that was going on then we headed inside for food and more cocktails. We had to make the most of it because this was our final evening on the cruise ship as it had now set sail back to Palma where we would be dropped off the following day to say goodbye to the Thompson Dream and get our flight back home.
Such an amazing holiday, so glad we went, so many stunning places to see, adventures to have and memories to keep forever (or until my brain thinks they're useless and ditches them like it does with everything else, my memory is shocking, I've had to look through my old diary and google photos to remind myself of this holiday in more detail so I could write more than a few sentences about each place).
Also Thompson were great the whole way through, when we went into the shop to ask about what they had on offer we told the staff member what we were after, they gave us several options and let us decide. They gave us all the information we needed on packages available, excursions offered, told us what we needed to sort beforehand and what could be left until we started the holiday if we wanted to wait, we had a lovely room for the three of us with a window, all the staff were really friendly, we went for the all in food and drinks package and saved a lot of money, the same with the photo package we went for, we looked at the photos we would want to buy and it worked out cheaper to just buy the whole set so we bought one full set and split it between us, we each have photos from every time we stopped at a photo 'station' and one each of the photos they took as you disembarked each day (granted some of them aren't great because we look knackered as some of them were taken very early but the quality of the photos are great). Thoroughly recommend going on something like this and I'm already looking at doing something similar again as soon as I raise the money to do so.
Anyway, that was quite a long entry, I'll leave you to enjoy your day and stop typing now.
Until next time, TTFN.
Have you been to Barcelona? Did you find the Gaudi artwork? Where would you recommend trying out- restaurants, attractions, tours? Let me know in the comments.
As usual feel free to like, comment, share, subscribe, follow my other social medias and message me if you want to collaborate.