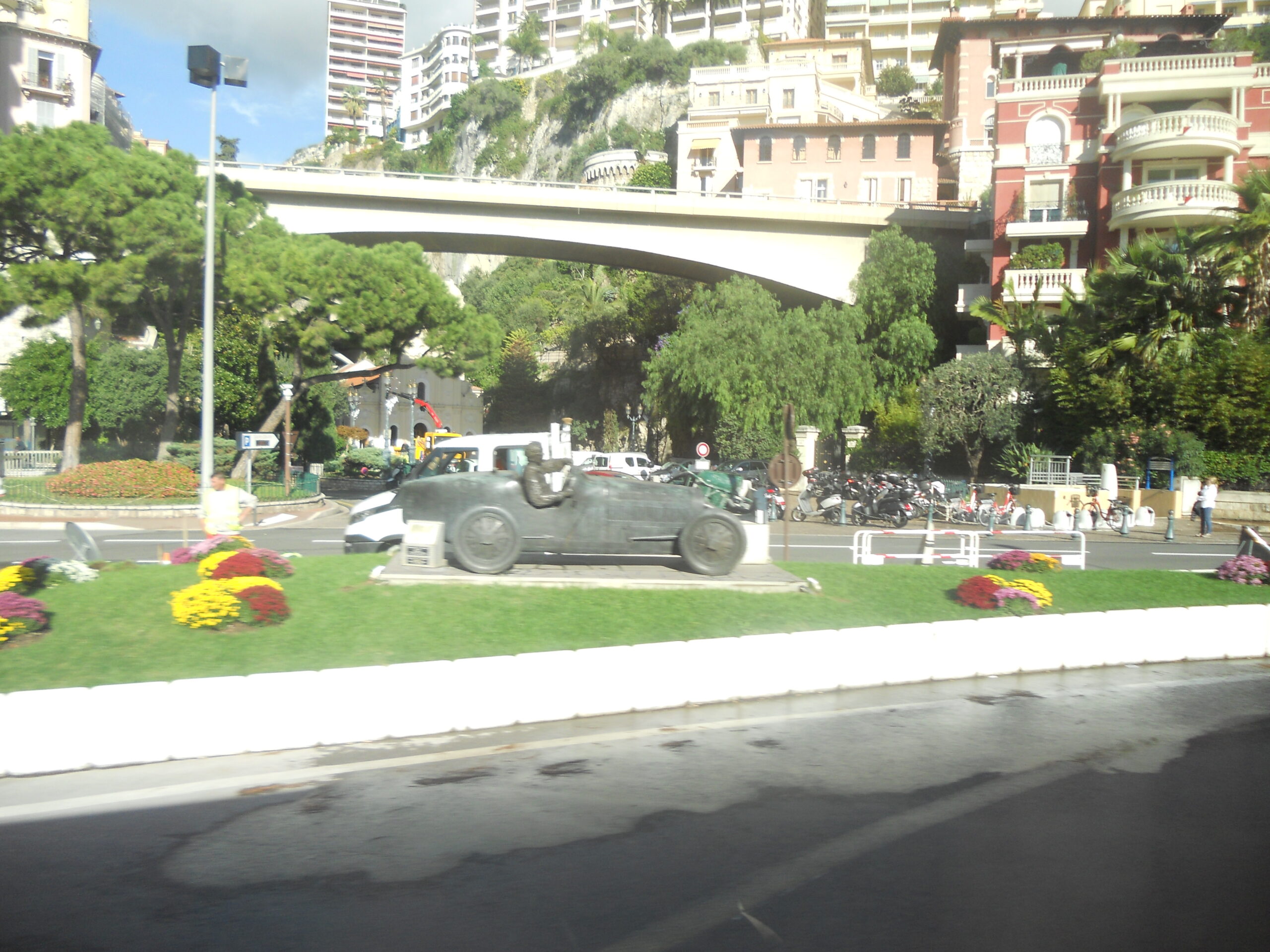 After our usual morning routine of watching the ship pull in to harbour, dressing, breakfast and working out the  days plan we got in line to get onto a boat to take us to St Raphael and then to our coach which would take us all the way to Monte Carlo.
The coach journey seemed to take forever but there were lots of gorgeous views to look at. Mostly mountains, small villages, some stunning landscapes and all with gorgeous, extremely bright sunshine.
When we got to Monte Carlo we went exploring, there was a lot of walking involved in the day, lots of steep paths and stairs but was worth it. The place is gorgeous!
We walked up to the top of a hill by Hotel de Paris where we lusted over the window displays of Chanel and other expensive brands. Went round a few shops, wandered through the little parks and things, over the course of the day we saw so many different statues, figures, monuments, fountains, gardens and impressive buildings including some very expensive looking hotels, restaurants, bars, casinos and shops.
As we were walking we followed some of the route of the Monte Carlo F1 track, some points are marked out with signs along the way, there were a couple of F1 car statues dotted around too, you can see the influence the event has on the area, if you didn't know, the F1 route is actually part of the main streets the rest of the year so we did some of the track on our bus route as well which was a bizarre feeling.
We ventured away from the circuit and into the more old fashioned looking parts of the place, did some souvenir shopping, lots of market looking places selling all sorts of bits and bobs as well as little foodie places hidden all over the place, down alleyways and things, it's a beautiful maze of buildings around some of it. It is a very elegant place, matching the grace, elegance and sophistication of the late Grace Kelly who became the Princess of Monaco in 1956, reading up about her marriage to the Prince of Monaco it says that there was a lot of redecoration for their wedding but I am unsure how much of what we can see today was there before and what was altered and added after her arrival. Either way it is a lovely place to be, so relaxing- more so in the historical sections with its Monacan architecture, beautifully kept gardens, pieces of art, the palace, Saint Nicholas Cathedral, the market style shops and it over looks the very impressive harbour which is filled with yachts and boats, its almost of sea of white, there are so many of them.
We chose the main square to stop for lunch, we took so many photos of the multiple statues and art on display, looked down at the harbour and ate our lunch sat on a bench before we continued exploring.
We were here for a few hours before we had to head back to the bus to take us back to the ship. It might not sound like much with how I've written it but it's such a lovely place and I have already added to my list of places to revisit. We just kept finding new things to look at, new places to explore, going up and down hills and stairs, winding around various roads and pathways and the difference between the expensive, money driven, F1 bubble and the historical area where the palace and market feeling town is is like two different worlds and there's so many things to do that we didn't manage to do, we didn't go inside the cathedral or the other buildings, we didn't go to the multiple attractions advertised around the place, we jus wandered around and stumbled upon things.
When we got back to St Raphael we had to wait for a boat to arrive to take us to the ship so we popped into a few of the nearby shops to have a mooch, admired the yachts and boats around this area, got back into the queue took a few selfies whilst waiting to be taken back.
Once we were back on the ship we had dinner, a couple of cocktails and then headed into the theatre to watch their final show of the week. Although I've forgotten which nights we went to be entertained during this holiday we did manage to fit in several of the shows, we missed a couple due to not getting back in time or getting back late and being too hungry to watch a show before we ate but the shows we did see were amazing, so much energy, great costumes and awesome performers.
After food, cocktails and entertainment it was time to head back to the cabin for a good nights sleep before our final day of exploration.
Until next time, TTFN.
Have you ever been to Monaco? What did you get up to? Did you make it to the zoo that we missed out on? Let me know in the comments.
As usual feel free to like, comment, share, subscribe, follow my other social medias and message me if you want to collaborate.