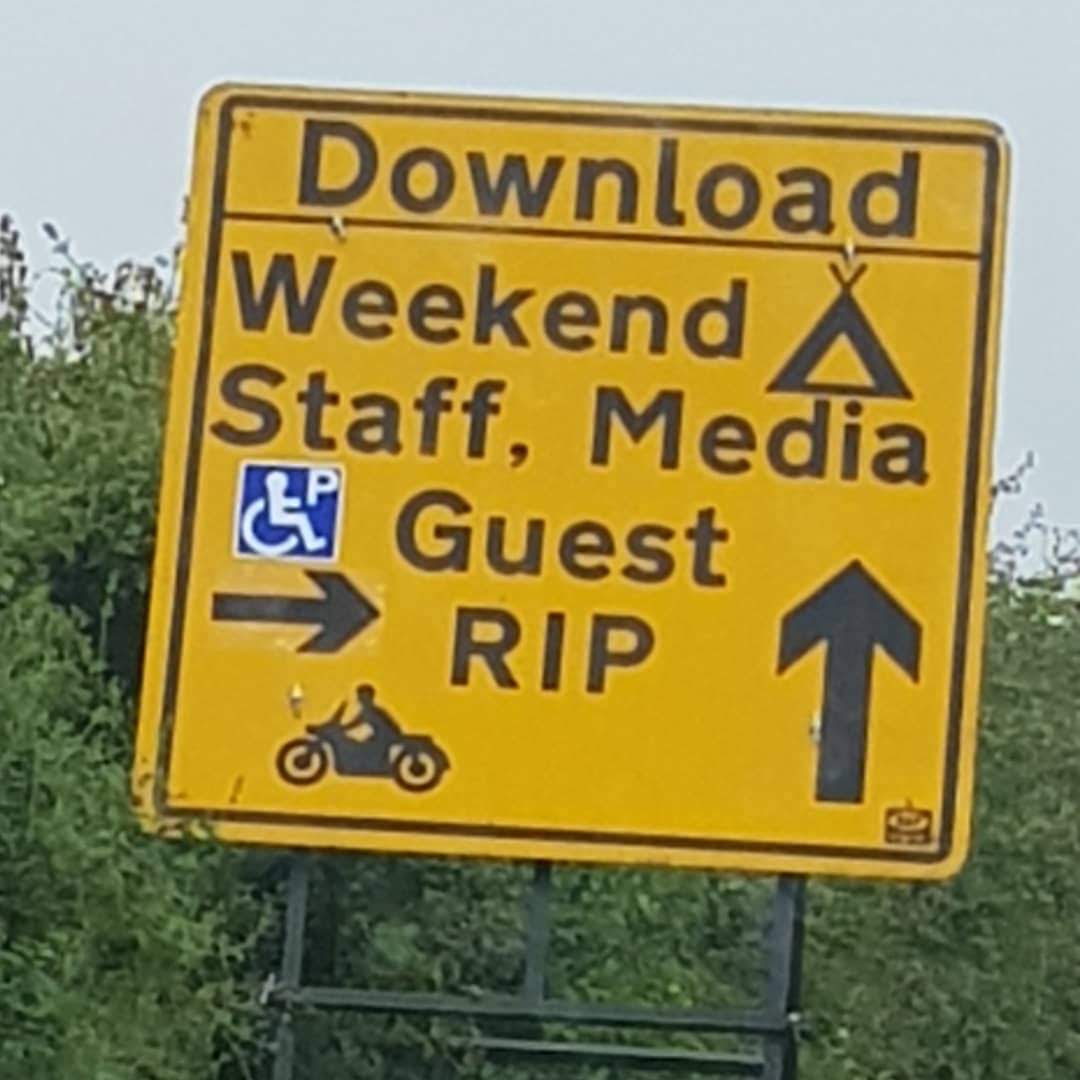 This June I went to my first ever festival, and what an awesome one to start with!
I've never managed to go to a 'proper' festival before, usually due to not having the money, but with download it was something my (now-ex) boyfriend and I had been talking about going to for ages and they gave the option of paying for it in three instalments- perfect.
The dates of this years Download festival was June 12th-16th. We packed up the car and headed on our 3 hour journey to the festival site, made good headway so stopped off for a service station breakfast (Burger King), but got stuck in a massive queue waiting to get into the entrance itself which took over an hour to cover a few miles.
There was a LOT of mud and rain and it just got worse as the days went on but it all added to the festival vibe in my eyes, we did manage to get a fair bit of sunshine too just not enough to dry the grounds. This made for interesting journeys to and from the campsite with all of our things (the multiple trips). The worst section was the 'village' I nearly lost my wellies on several occasions, luckily the music area wasn't quite as bad, well, not in initially anyway.
Within the festival grounds there were multiple different camping sites, identified by colours, the village where the Coop, shops and a fairground were then on the Friday to Sunday they opened up the arena where the music was on, it is a MASSIVE operation, even if it was just the arena area that's still 4 stages over 3 days: Dogtooth, Zippo and Avalanche as well as the main stage.
Other than evidently not being prepared enough for the weather it felt like they had thought of pretty much everything. If there was any camping equipment, clothing, food, drinks etc that you had forgotten there was a stall you could buy them from. They even had a Co-op supermarket in the village. No glass allowed on site so all bottles were plastic, was surreal pouring vodka and wines from plastic bottles but great that they made the changes (just wish it wasn't to single use plastic…)
There were so many different food vendors too, there literally was something for everyone, they catered to those who are on meat free, gluten free and dairy free diets as well as a range of different cuisines and of drinks options.
The first day mostly consisted of the drive to Donington Park, carrying our belongings (plus two other tents I had to put up for the two guys joining us the following day), putting up the tents and exploring so we could get our bearings.  Once we'd set up our home for the next few days and realised we'd be experiencing rainfall for the majority of the week we set up our chairs and went old school by playing on Rob's Gameboys and my Nintendo DS. I played a bit of Pokémon, Nintendogs can't believe they're still alive when I've not played it in over a decade, was half expecting to find a grave stone or something) and Animal Crossing. I had also bought a locker for the week which I shouldn't have really as it was £20 and only used it once because they were only in the village but ah well.
Our bag of snacks and camping foods got us through the first few days and we had a disposable BBQ we used to have bacon and sausage sarnies for breakfast on the Thursday morning then when the other two arrived we had a proper camping BBQ and more sausages and bacon to serve as breakfast for the Friday and Saturday. Luckily the rain did slow down as the days went on and although the grounds didn't clear up we managed to get enough time when I wasn't raining to sit outside our tents being sociable, having a few drinks, eating, listening to music and then Friday and Saturday we spent most of the afternoon and evening in the main arena so treated ourselves to the various food stands goodies.
When the arena had officially opened we had access to another fair ground and more food, drink and merch stands. The biggest reasons for going to Download Festival 2019 were Jinjer and Slipknot (Slipknot was for Rob) and the other performances were just bonuses. We ended up going home earlier than planned and made our way home on the Sunday so only watched 2 days worth of music but we managed to see some EPIC performances, my favourite has to be Jinjer though, I was definitely not let down, I was so excited to see them and then managed to get to the very front to watch them, Tatiana's vocals were spot on and their presence on stage was incredible. I properly turned fan girl over them and I'm not even ashamed, it was so deserving of it! We also got to meet them all after and had a bit of a chat with each of them which was the icing on the cake.
Over the course of the two days we went to the arena we managed to see: Def Leppard, Whitesnake, Twelve Foot Ninja, Jinjer, Slipknot, Die Antwoord, Animals as Leaders, Nothing Nowhere, The Hu, Alien Weaponry and Elvana.
Over the course of the 5 days I managed to get a lot of photos (not even used half of the total images I took in this post…) and a few souvenirs including extremely muddied clothes, broken wellingtons and several bruises but I also have some fab memories of my first gig, watching my favourite metal band, meeting that band, camping, having a week away from work no matter how much rained or how much people were complaining a week OUT of work is still better than a week IN work.
All in all it was a fab few days, no amount of rain, mud or hindsight could spoil that. I will hopefully be able to go to more festivals in the future but I think that Download will be my only one for 2019.
Until next time, TTFN.
What festivals have you been to? What were your highlights? Which ones would you recommend? Let me know in the comments.
As usual feel free to like, comment, share, subscribe, follow my other social medias and message me if you want to collaborate.