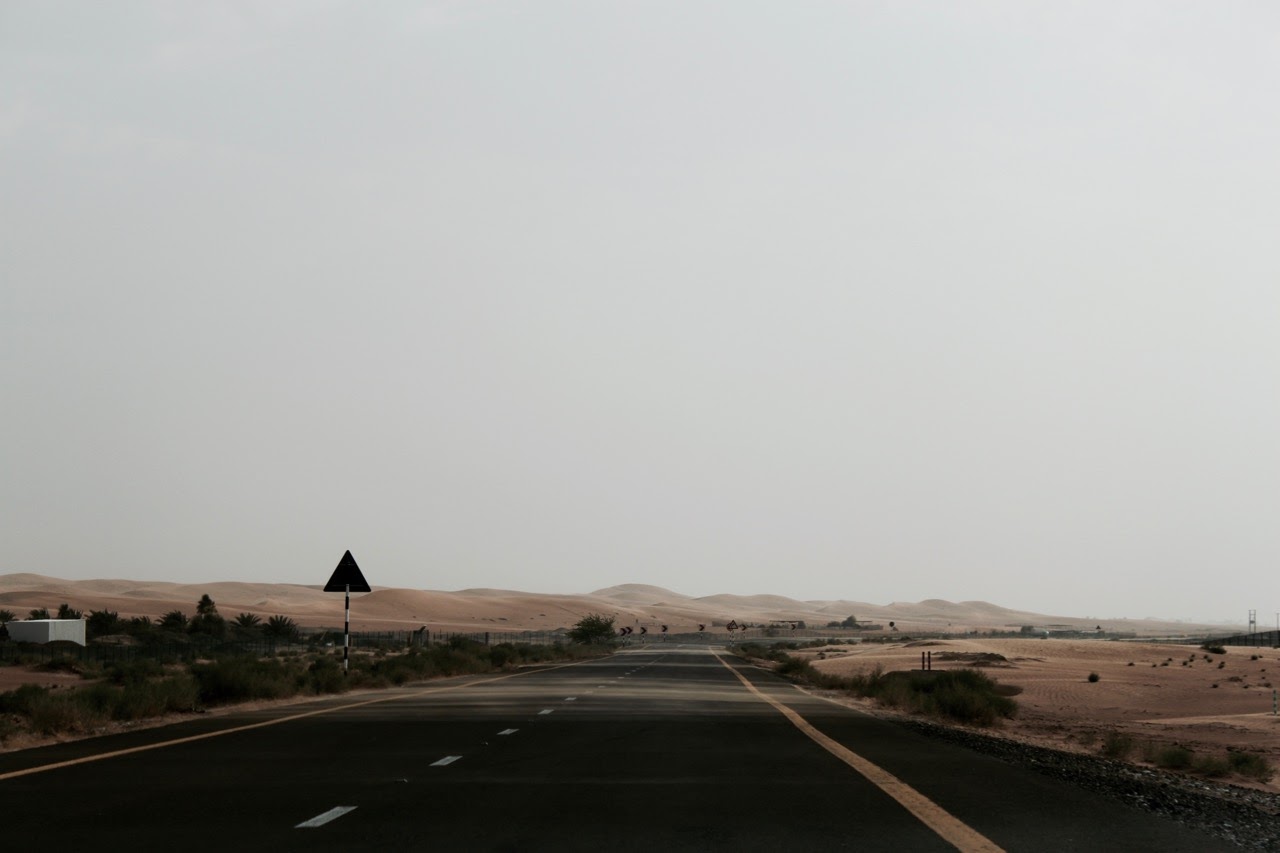 Day four was our day to really start exploring. We hired a car and Rob drove us out of the built up areas and into the sandy, desert outskirts (don't worry this isn't the beginning of kidnap/murder story). Our aim was to find somewhere to walk on the desert, we drove for MILES as most of the areas were fenced off, a lot of them had animals on the land too, and by animals I mean they all had several camels.
There were several scary moments on the roads as the drivers over in Dubai evidently have very different ideas to us about driving and sharing roads with other cars, it is not like on our roads at all, they swerve in between vehicles all over the place, I have no idea what the speed limits were but I don't think many drivers were keeping to them anyway, I'm surprised there isn't more accidents in all honesty, they are all over the place, if it was me driving (if I could actually drive a car that is) I don't think I'd have lasted long before having to pull over and let the inevitable panic attack commence. Luckily for me Rob has amazing driving skills, complete control, very sharp reflexes and managed to maintain his cool so I felt completely safe.
We drove for hours, through beautiful scenery, past stunning buildings, we stopped for snacks and fuel before we headed out so we didn't mind how long the search took, some of the roads were completely deserted (pardon the pun), and then we found it, an unfenced section of sand dunes…
We got out of the car, walked around in the immediate sand for a bit, wandered a bit further, took quite a few photos, some selfies, started to get a bit too hot (bearing in mind Rob is ginger and I am extremely pale, both of which are known for turning lobster colour rather rapidly and although we had applied the sun cream liberally this morning I was already burned from the wedding weekend and we didn't fancy risking it), went to sit back in the car, realised we had half the sand inside your shoes, shook out the sand, got in the car, then continued our adventure.
We continued driving for hours with no destination in mind, just soaking up the scenery and admiring everything we drove past. We managed to snap a few photos along the way, driving past many more groups of camels, vast sandy landscapes and various little shop set ups, juxtaposed by the streets lined with stores such as Ferrari and Lamborghini and the enormous towering buildings and extremely modern architecture. On our final stretch of the day, on our way back to the hotel, we managed to time it perfectly with the sunset and as we drove through central Dubai we watched the sunset create a gorgeous backdrop for the city.
When we got to the hotel it was time for our usual lounge stop for dinner and drinks which after a day of car snacks and sandwiches we piled our plates quite high and devoured the lot, then we went back to the room.
As this was our second and last night at The Creek I thought I'd make the most of the jets in the bath and have a mini Jacuzzi as I bathed before bed, it was lovely just being led in the tub, bubbles going crazy, looking out of the window, knowing that the man I loved (and still do just in case there was any doubt) was in the next room, going through the many photos we had taken that day, lying down and chilling on the comfy bed after a tiring day of almost constant driving (hope he knows how much I appreciate it, bless him), shouting bits of conversation through the room or popping in and out so I could hear him above the water, he sat on the ledge chatting to me initially and then the call of his camera beckoned and I was scared of splashing water on it accidentally. I eventually got out the bath as I was starting to look like a prune and then it was time for snuggles with Rob and watching random YouTube videos until we felt sleepy. After an amazing day of sun, sand and spectacular views we both slept extremely well.
Until next time, TTFN
Have you driven on the Dubai roads? How scary do you find them? Where do you recommend driving to in Dubai? Let me know in the comments.
As usual feel free to like, comment, share, subscribe, follow my other social medias and message me if you want to collaborate.