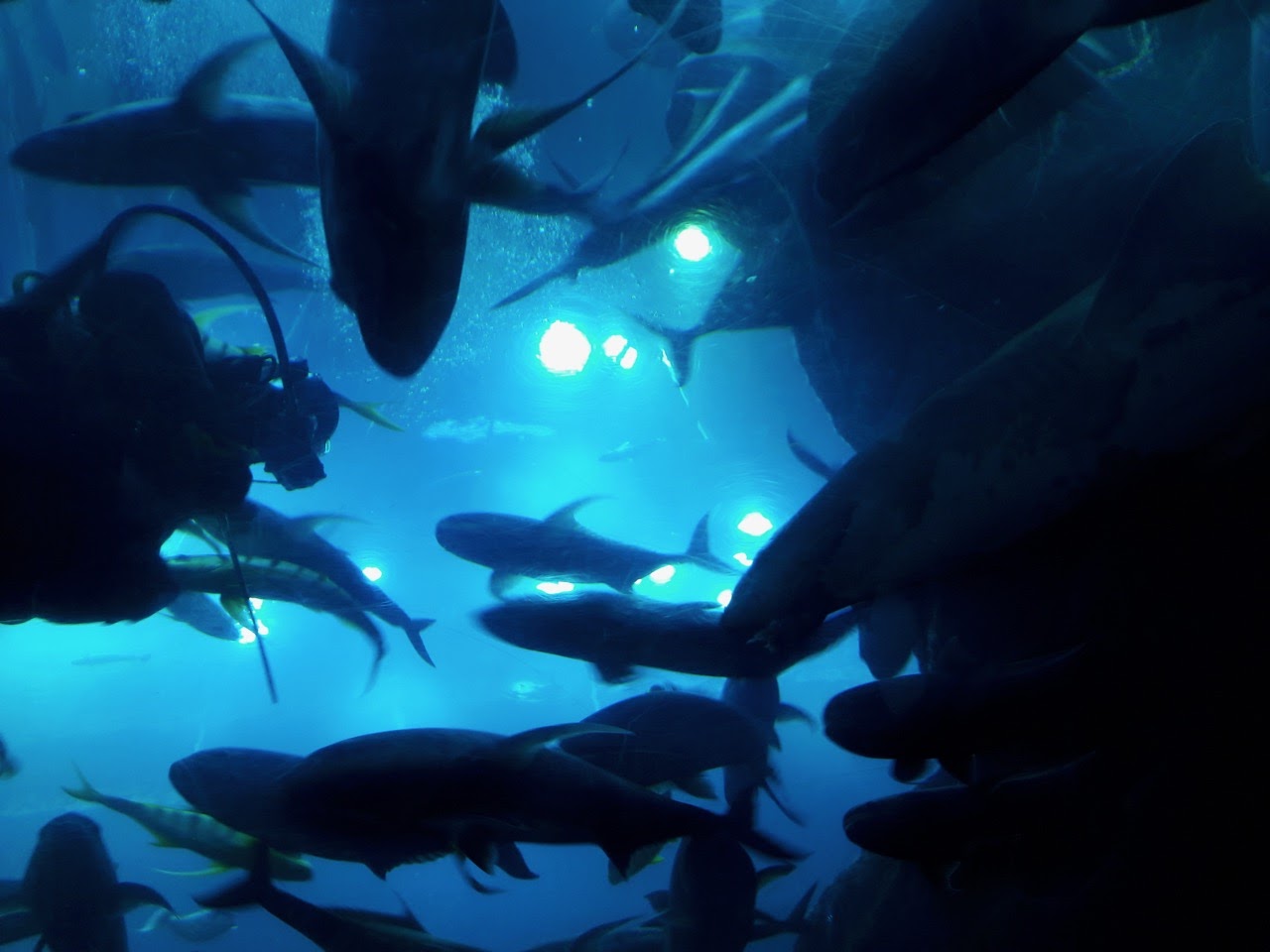 Day two was our first full day in this amazing place. We had a little bit of a lie in in the rooms massive king sized bed, the rooms in this place are stunning! Such a beautiful building in general really, if you get the chance to stay there you will not be disappointed. The architecture, design, layouts, facilities…it's incredible.
So we started the day with breakfast in the hotel lounge, got on the metro and went back to the Dubai mall, this time it was to go around the aquarium (yaaaay). We went through the initial underwater tunnel, through the shark tank, which we were under for quite some time watching the sharks being fed, looking at the various other species too as it wasn't purely sharks in the tank and taking lots of photos. Something I noticed on the price list and that Rob confirmed about the massive area that makes up the entrance for the aquarium which houses these sharks- you can actually pay to go in and swim with them, we didn't opt in for that but I still think that would be an incredible idea if you're brave enough. After going through the tunnel we had a mini tour around the back of house area, watching how and where they care for the newborns of each species, how they grow the foods, looking down through the top of the big tank and getting a bit of knowledge, we then went round all the tanks and enclosures of the many types of fish and other animals they have there. There was so many different sections, creatures and areas to explore- we were in there for hours looking at various fish, sharks, rays, otters, jellyfish, starfish, seahorses etc etc etc and the King Croc.
When we finally finished going around the aquarium, we went around a few of the clothes stores, jewellery stores and watch shops amongst other stores, scouting out the things we'd buy if we were millionaires, we came up with quite the epic shopping list actually but it will take us both decades to earn enough money to even start making a dent on that list…
Shopping even when you don't end up buying much (or anything at all) is thirsty work so we made our way back to the hotel for multiple plates of food and several drinks and watched Dubai through the lounge windows, we also had some very delicious doughnuts back in our room later on which we got from the mall for when we got hungry again, in all honesty though, it was lovely to just be able to relax. The weather was a little warm to say the least and we had no escape from it when we were outside, it was hot the entire time we were there, day and night, so the fact that all shops, hotels and metro stations had air con was a god send, it was most definitely appreciated! But it was the fact that we had nowhere we needed to be, nothing we needed to be doing, no expectations, the novelty of having only each other's company, a new place to explore, no pressure. We went back to the lounge for dinner that evening and watched a gorgeous sunset through the windows, that along with our new found freedom- it was just bliss.
Until next time, TTFN.
Have you visited the Dubai mall? How do you feel about aquariums? What is your favourite aquatic animal? Let me know in the comments.
As usual feel free to like, comment, share, subscribe, follow my other social medias and message me if you want to collaborate.