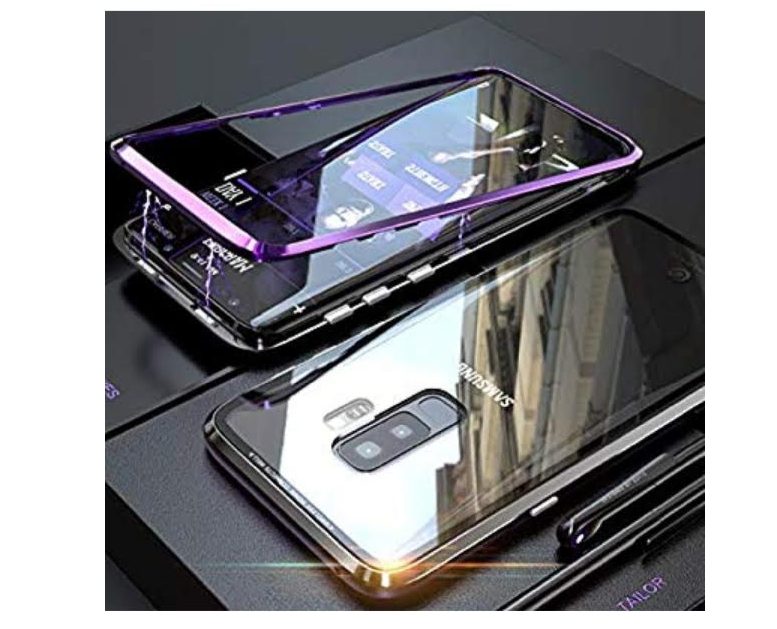 This months review is on the "Slim Fit Magnetic Adsorption Tempered Glass Protective Case Shock-Absorption Bumper Cover" for my Samsung S8 which I bought via Amazon.
Whenever I buy a new phone I always try to find a decent case and screen protector to keep it safe for as long as possible as I know the amount of times myself and others have dropped their phones onto carpets, tiles, concrete, stone, laminate wood flooring, onto car park floors, down bannisters, phones that fall out of pockets and onto parks, into toilets etc etc etc, you hear tales of how people have damaged their phones over the years and I like to hedge my bets.
The smarter our phones and tablets get the easier they seem to be damaged. I am a rather clumsy person so I always have to go for phone cases that have decent shock absorption. I have been known to drop my phone in various ways but so far I have managed to buy phone cases which have saved my phones from my affliction and have only come away with minor scratches as apposed to being written off.
The last couple of phones I've had I initially had the same style phone case, I also bought them from amazon as they promised heavy duty protection and they were right. I dropped my phone from a massive height while at my parents house one weekend, it went through the bannister, hitting multiple objects on the way down and the phone was left unscathed- very impressive- the only reason I have changed is because I wanted to be able to personalise my phone and because in all honesty I'm bored of the case having had the same across two different phones so I've been looking at the same thing for over 3 years… I like to make things my own and the case I had just doesn't allow that.
The phone case I have changed to had been popping up on my social media pages for months before I finally caved in and treated myself. I had been looking at changing to a clear case as I was given some Disney decorative stickers as a present at Christmas and I wanted to use one or two on my phone but the design of my old case would not allow for them as it wasn't flat 🙁
I decided to go for this specific case as it promises tempered glass and shock absorption, it is clear and flat which is what I was after and I like the colour- there are a few options but I went for the purple and black- as it will go with the actual colour of my phone (plus the stickers I plan to cover it in) and it was cheap enough to not break the bank.
My review:
Pros
Clear backing makes it easy to personalise
Smooth back meant I could add a ring
Easy to put on and take off as is just magnets
Bold colour
Fits well with my phone- good design
Compatible with a separate glass protector (which I have added to mine)
Cons
There is no glass on the front of the case
Dented easily and was damaged following one drop (but still usable as this was a few months ago but the case is still on my phone)
Gets dirty very quickly
Case comes apart from phone on impact from fall/being dropped
If you're after a cheap, quick fix this may be the case for you. In all honesty I was expecting more from this product but now determined to see it through so it doesn't seem like a waste of money…
Do you have this case for your phone? Or one of a similar design? What do you think? Let me know in the comments.
Until next time, TTFN
If you like this post please like, comment and/or share it. You can also subscribe to this blog and/or follow my other social medias. I'm always looking for collaborations too so if you would like to join forces, message me 🙂