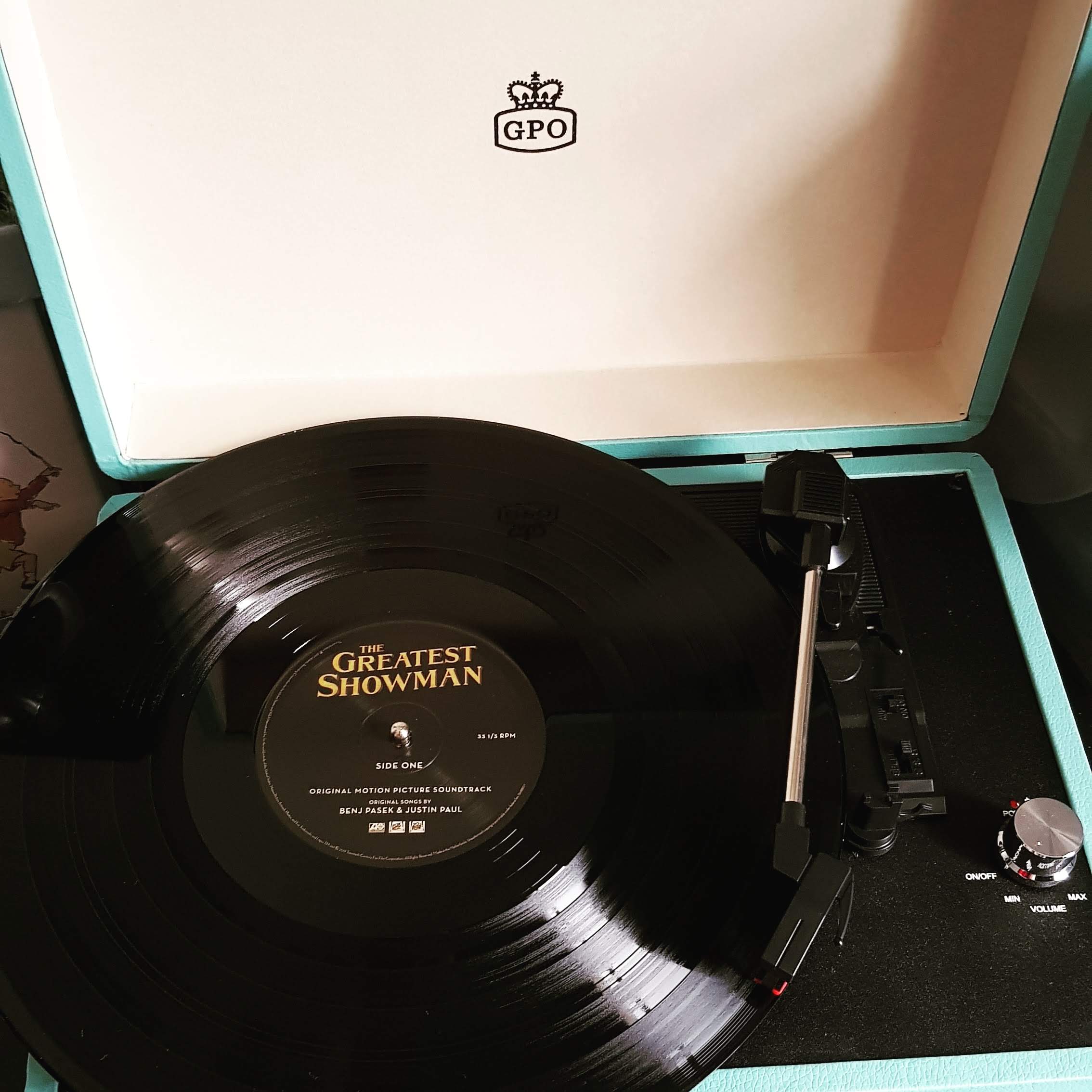 I have wanted my own record player for years, my mum had an all in one vinyl, CD and tape player set at home and I loved the novelty of the vinyl and the difference in sound from the other methods. When I moved out at 18 to go to University it was strange to only have CD's and the internet to listen to music. I missed putting on a vinyl and relaxing but I could never find one I really liked that was within my budget at the time, they then became the 'in' thing and were everywhere which to be honest kind of put me off, but as a belated Christmas gift to myself this year I decided to bite the bullet, go into HMV and buy one 🙂 it has taken me nearly 10 years to actually get one (I'm now 27…).
As soon as Christmas day came and went the sales signs popped up in almost every shop window, the HMV window featured several discounted vinyl record players, this was my chance! I found one in a lovely turquoise colour (also available in other colours too but I was drawn to this one), it was on sale for £49.99 instead of £79.99 and included a 15% off voucher for a future vinyl purchase.It is a GPO Soho, made exclusively for HMV, with inbuilt speakers which have been plenty loud enough for my use but it does have the option of plugging in external speakers too if needed. The design of it means it is relatively light weight, easily portable and can be stored away if needed, I have mine constantly out in my living room but again this is just my personal preference.
Pros
colourful
inexpensive
built in speakers and external speaker input
simplistic layout, easy to use
perfect for newbies-portable (carry case style)
lightweight (2.5kg)
compact (W 35.5cm, D 27.5cm, H 13.5cm)
rubber feet so it doesn't damage my table top, also assume it makes it a bit sturdier too
Cons
sound changes clarity after a certain volume and feedback comes through more the higher the volume (had to test this out but it changes at a higher volume than I ever play it)
basic controls, maybe too simple for the more seasoned turntable expert
no USB connector if you want to use it for MP3 or other music method usage
I know it's not necessarily the most aesthetically pleasing vinyl player out there (there are some absolute stunners!) but it's bright, colourful, goes with my home décor and for my kind of budget I am so impressed. I read some reviews about it beforehand and got some helpful hints from the staff member who put through the transaction about the speakers, what to do if keeping it open permanently and things but so far I've not had any problems at all (touch wood it stays that way).
I think this is one of the best record players for beginner vinyl collectors, when I get a better collection and have more money to spare I may splurge on something a little grander.
I have already managed to start a vinyl collection, before I even bought the player I had bought the Fleetwood Mac Rumours album -kind of like a guarantee to myself that I would be getting a record player- with my money off voucher included in the purchase of the record player I bought the double disc A Star is Born soundtrack and The Greatest Showman soundtrack and as a well done for passing my driving test first time my boyfriend Rob bought me the Panic! At the Disco A Fever you can't Sweat Out vinyl all of which have been blasted while cleaning or while I sing/dance manically along or played calmly as the soundtrack during dinners.
I of course have a long list of other vinyls I want to add to my collection but I have to control myself so I don't end up bankrupt over it. 
Until next time, TTFN  
Do you have a record player? What are the pros and cons of yours? What do you think of my music choice? Let me know in the comments.  
*not endorsed and not receiving anything for writing this review
A usual please feel free to like, comment, share and subscribe. If you want to collaborate with me send me a message so we can see if we can work something out 🙂