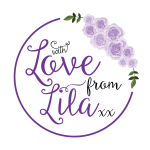 This weeks post is about one of my friends who I actually met through an ex boyfriend, I kept up to date with her previous blogging venture which posted mostly about gift tips and romance but more recently she has turned her hands to baking and the photos I have seen of her creations look fantastic so I thought I would let her tell you about this new venture.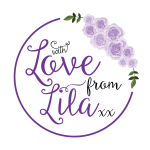 Who are you? What is your business and when did you start it?
My name is Lara and I run 'Love from lila xx' which is a cake, cupcake and cookie business based on the Surrey/Hampshire border. I make wedding cakes, birthday cakes, party cakes and even cakes for businesses to give as gifts to their clients or to celebrate big milestones.
I started the business in 2015, and I'm almost halfway through my third year of business. It is a fully limited company, registered with Companies House. As I am serving food to members of the public, I am also legally required to be registered with the local council, and have a 5* food hygiene rating.
How did you come up with the name?
The business name, Lila, comes from 2 important things in my life. The first is the time I spent living in Germany, where I used Lila as my name, because Lara was too difficult to pronounce in German, and it is both French and German for purple, my favourite colour! It was also the name I gave to my purple monkey teddy from my boyfriend, the namesake for my romance blog that I wrote between 2012 and 2016. I'd always dreamed of selling things under the Love from lila xx name and here we are!
What were your reasons to/what motivated or inspired you to go for it?
I have always wanted to run my own business, but between universities and living at home (with 5 doggies), it wasn't the right time to start anything. After realising that I was stuck at home for the foreseeable future, I decided that actually, I just needed to dive in! So I struck up an arrangement with a family member (to whom I am eternally grateful) to use their kitchen. I like having the responsibility for at least a part of my income, using the skills I learnt on my business degree and trying to learn and succeed as best as I can.
What would be the first steps to success? What advice would you give for others who are hoping to do the same?
The first steps to success are to start as you mean to go on, and make sure your marketing is spot on. Particularly in the cake world, where there is an incredibly large distance between the cheapest and most expensive cake maker, it's important to charge reasonable prices from the start. If you start too cheap, people will assume you will always be the cheap option, which you won't want to be once your business gets moving. In terms of marketing, I think about it as a snowball. That's the principle for social media and marketing in general. If you start with 10 people who will each tell 1 person about your business, you then have 20 people who know what you do. As time goes on, you will get more and more people who know about your business, and a larger pool to convince to buy your products/services.
What are your favourite things to do when you're not working?
I don't really like 'not working'! But it's usually spending time with my other half, my family, or taking pictures of something animal related.
If you would like to have a look at Lara's creations, watch her tutorial videos or order some tasty treats the links are below.
If, like me, you don't live close to where Love from lila xx are based then don't worry, you can still order the delicious cookies if, again like me, you have a sweet tooth and simply looking at her creations makes you extremely hungry.
Next week will be another talented friend pos but something rather different to anything I've covered in this blog so far, keep your eyes peeled…
Until next time, TTFN
As usual feel free to like, comment, share, subscribe, follow my other social medias and message me if you want to collaborate.