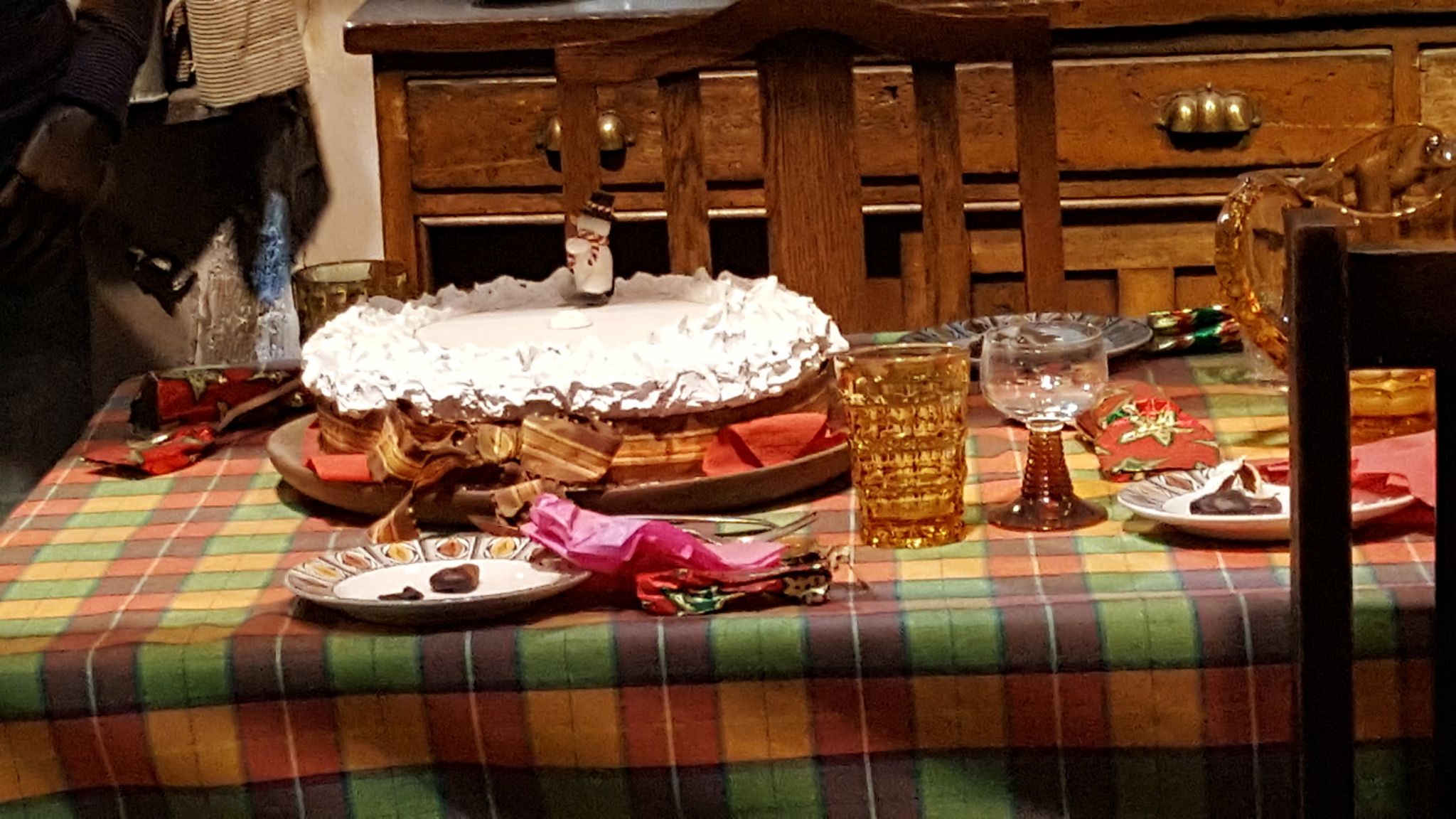 [Had to get a Harry Potter related image in this post somewhere so above is the Hogwarts in the Snow table layout 'The Burrow' from my visit last year.]
When Christmas starts getting closer my first thought is to write down a list of names of people I need/want to buy gifts for, a separate list of what cards to write and I start coming up with gift ideas.
I am one of those people who buys gifts throughout the year when I see something I think a person will like and I save them all so when their birthday/Christmas comes around I usually have something ready, or at least an idea of what I want to get or make them.
Once the list is written I go through my box of goodies, match up things with people and see how much I've already got, then I get to planning those wth blank spaces next to the names. I go onto my Amazon wish lists as I have one for gift ideas for others that I just couldn't afford at the time, I look at Etsy, and the other quirky sites I love to shop on (I've written enough posts about them now though so I won't go on about them now) then I always wander into town, looking around the independent shops. I've bought and received some absolutely gorgeous presents from local shops and it is so much better than buying from the big stores, I feel like I'm actually helping someone, if you've seen the signs and memes going around "make someone jig this Christmas" -that is the aim.
If you have a smaller budget making gifts may save you a few pennies if you have things around the house. You can make calendars, photo albums and collages, scrap books and cards relatively simply enough, or you can go for something more complicated if you fancy the challenge. There are so many ideas on YouTube, Pinterest, arts and crafts shops/websites if you need some more inspiration, maybe even bake something rather than making something. Think of a memory you've got together, a hobby you share, something they love and go from there. If you have young children getting them to make gifts will mean they get to have fun being creative and probably getting messy as the easier kids crafts often involve paint/glitter/glue, plus the person/people the gift is for will love it as it's different, personal to them, something from a loved one that they will treasure and may even end up pinned to their fridge.
If you don't want to make gifts but are trying to still pinch those pennies there are so many things in budget-y shops that look more expensive than they are or that you can get personalised. If you read my blog regularly or follow me on Instagram you will know how much I like Primark but I've found bargains and lovely little kick knacks in Asda, Tesco, Sainsbury, TKmax, charity shops, CEX (if you're after games or DVDs), you can also buy vouchers in most shops and café chains including an online code for just eat if they love a good takeaway.
If you can buy local and support smaller business please do, but if not I hope you manage to keep the spirit of Christmas alive and that it doesn't put too much strain on your purse strings. Hopefully you get to spend the time surrounded by love and getting to do things that make you happy.
Until next time, TTFN.
Where are your favourite bargain hunting shops? How many gifts do you still have left to buy for xmas? Have you looked at other wordpress blogs for inspiration as well? Let me know in the comments.
As usual feel free to like, comment, share, subscribe, follow my other social medias and message me if you want to collaborate.