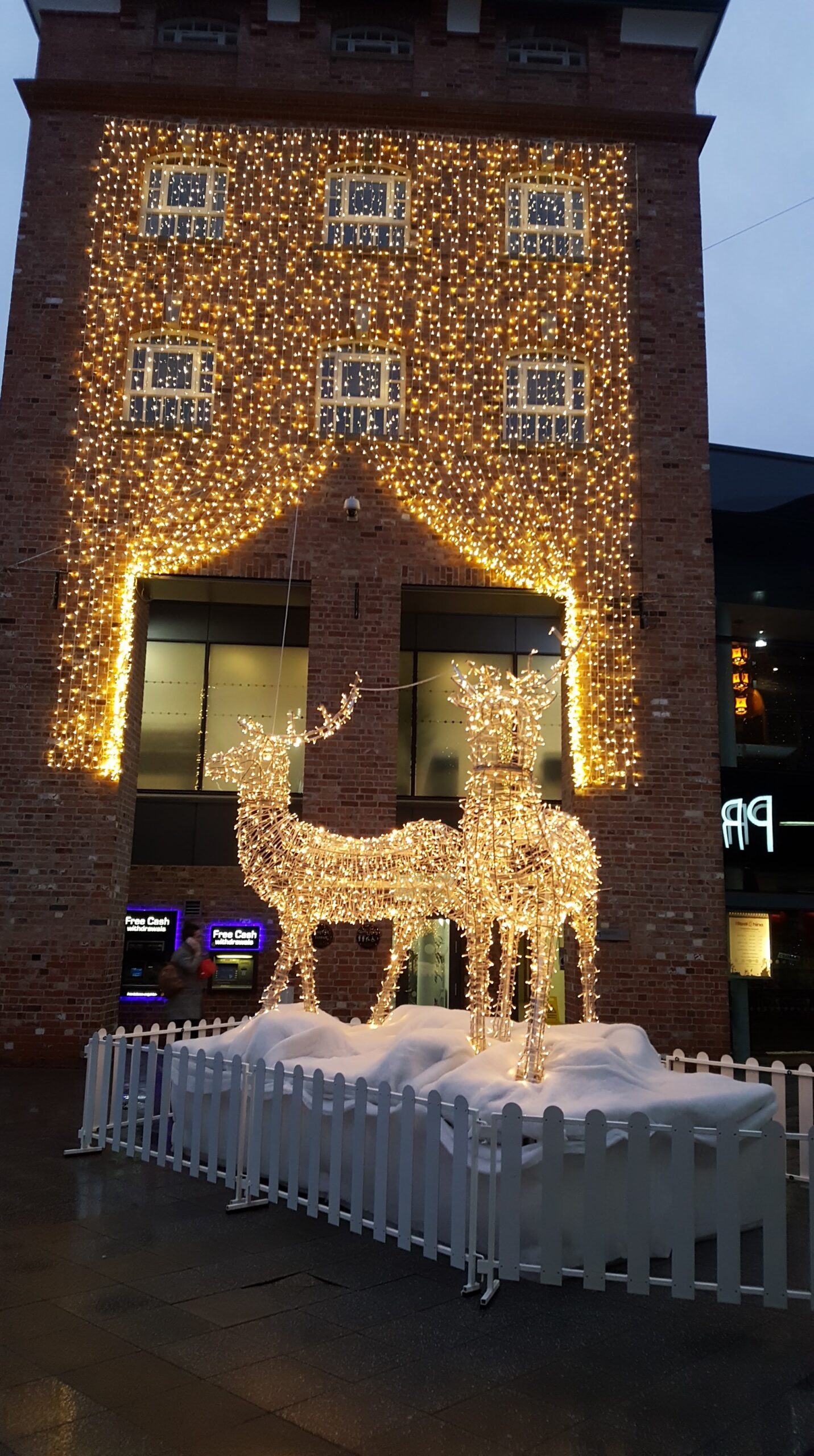 Merry Christmas and a Happy New Year guys and dolls (got to have a musical reference or two in my blogs now and again), I hope you all had a lovely Christmas season, with any luck you had a few days off work and spent them relaxing, or not if that's more your thing, surrounded by your favourite people and doing what you love.
I have to say I absolutely LOVE Christmas time! There's always so much magic in the air and so many things to get involved in. I've not long moved into my flat here in Cheltenham but it was so lovely to see all the Christmas lights around town, the Christmas markets (walking past all of the food stalls when I came home from work was amazing, but so tempting to spend far too much money on one of everything so I didn't have to cook when I got home each evening, I'm super proud of myself for only doing that the once), the mulled wine, the wintery shop window displays, the perfect excuse to see as many friends and family as possible. I love it!
My Mum's bday is at the beginning of the month too so this year we decided to go to a restaurant in Cheltenham, somewhere different, and we found a church that had been converted into a restaurant- Zizzi's– so thought we'd give it a go. The food was delicious! Not too pricey and because it was my mum's bday we had a few freebies thrown in too. We each had a starter and main but were so full we couldn't fit in a third course. I thoroughly recommend the place, even if just for the look of it all, the pizza oven is where the alter would have been, they have kept a lot of the features of the church building including the stained glass windows and the architecture of the ceilings and walls, there was also a piano being played upstairs which made for a lovely atmosphere.
This year also had an extra event to look forward to, my Mum's wedding, and although the snow did cause of few problems and there were a few mishaps over the course of the day it was an amazing celebration, my mum looked beautiful in her dress, like a fairy tale princess, her now husband looked extremely smart in his uniform and the venues were perfect. You know when you see a wedding venue and it just matches the couple, how quirky they are etc- well, that. It also helped that the reception was held in the beautiful Caldicot castle, an amazing place that we have gone to on many occasions for the various events they host each year, and the snow just made it even more spectacular.
The winter months also brought about a reunion with one of my University friends who I haven't seen in years (to the extent that she thought my brother who becomes a teenager this year was still in primary school), we met up in Cardiff where she now lives, went round the Christmas market, had tasters of various sweets and drinks, soaked up the creative talent from the non foody stalls, stopped for a cup of mulled wine then Jenn took me for my first ever Wagamama's, it was delicious, except for the fact the pudding I ordered had chilli in it (saw chocolate ice cream with something I didn't recognise so just ordered it) my eyes were slightly streaming and Jenn was laughing at me panting and trying to power through my confusing ice cream- I recommend googling things you don't recognise before you order just in case, I know I should have- I might have to go to another one though (but go for a different pudding) with the excuse that it's to write a blog 😉 Afterwards we then went for some cheeky cocktails –the 2 for 1 offer was singing our names- then I trained it back home. It was such a lovely day! It's amazing how long two people can be apart, without contact and so many things going on in their own lives and it feel like nothing has changed when you finally meet up again. We spent hours catching each other up on the events of the past few years then just hung out as if it had only been a few days since the last time we saw each other.
Christmas itself came round very quickly this year, watching all my Christmas films, work dos, card writing, present wrapping, standing in post office queues for what seemed like hours… Then came the few days of a LOT of driving.
Christmas for me this year was initially spent in Wolverhampton with mum's husband Mark and his family, we visted three different houses over Christmas eve and Christmas day before driving to Monmouth to have Christmas dinner and spend the night with my grandparents. Mark drove us all up to his sister's house for Christmas eve lunch and a game of who am I, then to his parents house for dinner and then went to midnight mass in the local church, spent Christmas morning with Mark's parents, opened a few presents then made our way to his daughters house to see his four children and grandson, we opened more presents, played games then said our goodbyes before the final leg of our journey. We got to Monmouth at about 4pm, helped get the food ready, had a delicious Christmas dinner and pudding with all the trimmings, then opened our presents to each other before playing a game of Christmas monopoly, watching Call the Midwife and Victoria on TV, then going to bed after a long few days. 30th Dec most of my family traveled up to Watchet to see more of our family and had a day of food, drinks, games, laughter and catch ups, it's one of my favourite things about this time of year.
I also had a separate Christmas day with my boyfriend 28th Dec once I had finished work as we weren't able to see each other over Christmas itself. We opened our presents (I have been thoroughly spoiled by everyone this year, only just have the space in my flat for it all), ordered takeaway, cracked open the bottle of babycham I'd just unwrapped then spent the evening cwtched up on my sofa watching christmas dvds. Bliss.
Until next time, TTFN.
How was your Christmas? Do you have an traditions you do with friends or family each year? Let me know in the comments.
As usual feel free to like, comment, share, subscribe, follow my other social medias and message me if you want to collaborate.